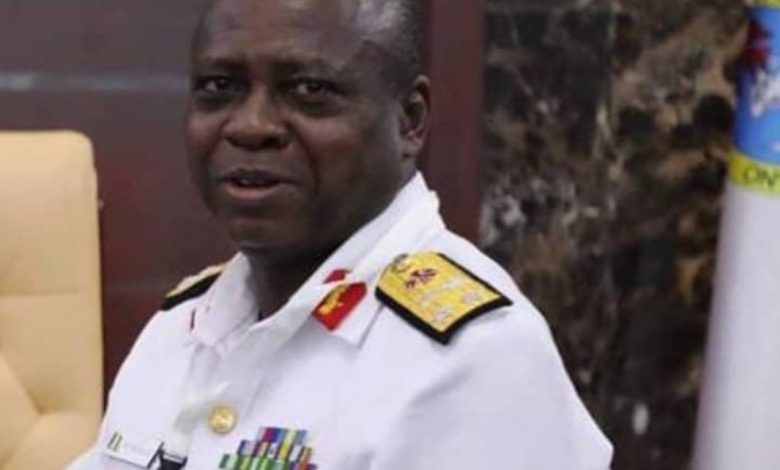 President Bola Tinubu appointed Rear Admiral Ikechukwu Ogalla as the new Chief of Naval Staff.
Ogalla's appointment was sequel to the removal of all the Service Chiefs by the President on Monday night.
Ogalla replaces Rear Admiral Awwal Gambo, who was appointed by former president Muhammadu Buhari in January 2021.
Politics Nigeria has gathered some facts you need to know about the new Naval chief.
1. Rear Admiral Emmanuel Ikechukwu Ogalla was born on December 20, 1968 in Enugu Ezike Igbo Eze north LGA Enugu State.
2. He obtained the West Africa School Certificate from the Nigeria Military School Zaria in June 1987 where he graduated as the best boy in Sciences. He had A1 in all subjects except English language.
3. He is a member of the 39 Regular Course of the Nigeria Defence Academy, graduated with a BSc in Mathematics and was awarded sword of honour as the best naval cadet in his course.
4. Ogalla was commissioned Senior Leutenant on September 16, 11992 and rose to the rank of Rear Admiral on September 2021.
5. He took part in the Master of Science (MSc) Strategic Studies programme, University of Ibadan from 2014 to 2015.
6. The senior officer served on board many ships including NNS AMBE, ARADU, LANA, EKUN, AGU, QUORRA, BEECROFT, DELTA and PATHFINDER. While on board NNS EKUN he took part in the ECOMOG Operations in Liberia in 1996.
7. Ogalla was responsible for coordinating anti illegal bunkering operations as well the entire policing duties of the base. During the period there was a remarkable reduction in illegal activities in the maritime area within the base area of operations.
8. During his cumulative 6-year tour of duty in NNHS, he taught geodesy, datum conversion, tidal predictions and analysis, satellite surveying, bathymetry, among others. He linked the School with Teledyn Marines, a reputable OEM in the US, which enabled the NN to procure several survey equipment from the company, leading to improvements in practical training.
9. During his tour of duty at the NDC, he contributed towards the improvement of the College research package and also led the 2018 participants research study tour to China and South Korea.
10. He is married to Mrs Ijeoma Ogalla and the marriage is blessed with 2 children. His hubbies include jugging, reading, listening and researching about science and nature.