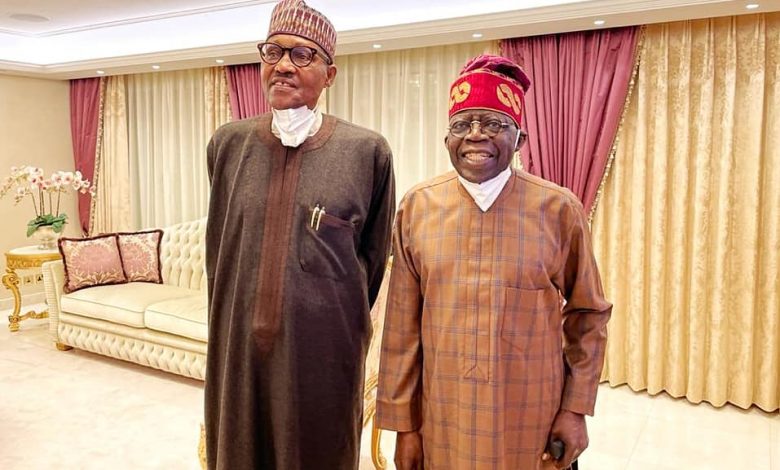 As Nigerians prepare to go to the polls come February this year, the political atmosphere is as charged as it can be. One question on the lips of many is: does Buhari really support Tinubu's candidacy?
Asiwaju Bola Ahmed Tinubu, the former Lagos State Governor and the ruling party's presidential candidate, is surrounded by controversy. Issues surrounding his health, alleged corrupt enrichment from the coffers of Lagos State and links to Narcotics Trafficking are major issues contending against the popular "Emilokan" candidate.
However, one issue that stands out is the relationship between the incumbent president, Muhammadu Buhari, and him. The two have a long history of working relationships dating back to the merger of their parties, on the one hand, the then Action Congress of Nigeria (ACN) and the Congress for Progressive Change (CPC).
A quick back story
Buhari had run twice on the platform of the predominantly northern CPC and lost woefully. He was only able to eventually win after Tinubu offered to join hands with him to wrestle power from the PDP. It is widely held that there is a gentleman's agreement between both men that Buhari will support his emergence after he has finished his own term.
However, since the 2023 electioneering campaign began early in 2022, there have been some indications that Buhari may not be completely sold out to Tinubu's candidacy, despite his efforts to conceal this.
Here are three instances that show this:
CBN's move to redesign the naira notes
Nigerians woke up on October 26, 2022, to the Central Bank's announcement that it was going to redesign the N200, N500, and N1000 naira notes, and on November 26, it unveiled the new naira notes ahead of the December 15 launch date. Despite obvious hiccups and an obviously unprepared situation the country is in, the apex bank has stuck to its guns on the January 31st deadline for the old notes to be exchanged for new ones.
The bank's ability to stick to its guns on the deadline is attributed to President Buhari's support for the policy. However, Tinubu sees this move as a ploy to scuttle his emergence as president since Nigerians will be angry at the party and may decide not to vote for him. He admitted this much recently when he lamented that the policy is aimed at stopping him only stopping short of calling out the administration of President Buhari.
Buhari's support of the policy drive and the CBN's decision not to extend the deadline are seen by many as a major pointer to the fact that the President, deep down, does not support Tinubu's candidacy.
Lingering fuel scarcity
Nigerians have been faced with a lingering fuel shortage all across the country that has even seen the price of fuel skyrocket to as much as N400 per litre in some areas. The fact that the scarcity has persisted for so long, since October last year and throughout the holiday season, and appears to have only gotten worse a few weeks before the elections, has led many to believe that a powerful cabal within the administration is to blame.
Tinubu himself admitted this when, during his recent campaign outing in Abeokuta, he declared that the recent issues bedevilling the nation were meant to stop him. He said;
"They don't want this election to hold. They want to scuttle it. Will you allow them? They have started coming up with the issue of 'no fuel'. Don't worry, if there is no fuel, we will trek to cast the vote.
"If you like, increase the price of fuel, hide the fuel or change the ink on the naira notes, we will win the election. We will use our PVCs (permanent voter cards) to take over the government from them; if they like, let them say there is no fuel, we will trek there (polling booths).
"They are full of mischief, they want to create a fuel crisis, they have started creating a fuel crisis, but, forget about it, put your mind at rest, I'm assuring you. I, Asiwaju will end fuel scarcity," he concluded.
Although his campaign team was quick to issue a rebuttal that he was actually not attacking President Buhari, many believe this is actually not true.
President Buhari's recent comments on the forthcoming election
In a recent interview with Premium Times, President Buhari admonished Nigerians to vote for whoever they like from whichever party, saying nobody will be allowed to mobilise resources and thugs to intimidate people in any constituency. When asked what the chances were of his party and its presidential candidate winning the election, he replied tongue in cheek by asking the interviewer what his chances were of not winning the election.
This obviously does not sound convincing enough and just goes to show that President Buhari most probably does not support the candidacy of Tinubu.
Credits: Business Elites Africa