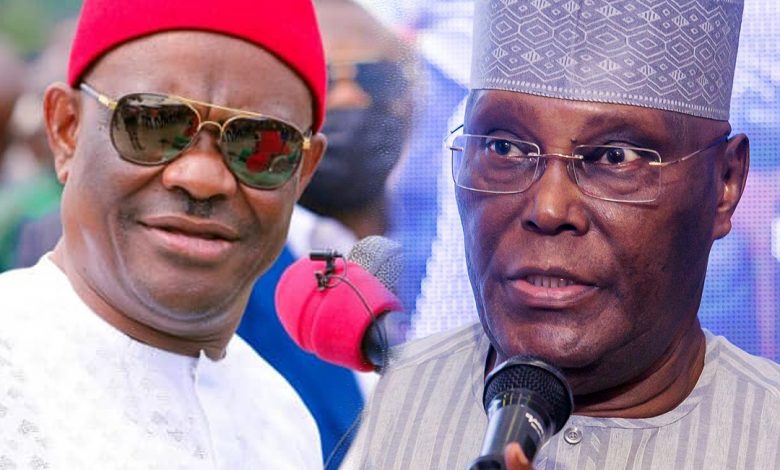 Governor Nyesom Wike of River State on Friday asked the presidential standard-bearer of the Peoples Democratic Party (PDP) for the 2023 election, Atiku Abubakar, to caution his supporters to stop peddling fake news about him (Wike).
POLITICS NIGERIA reports that a suit had purportedly been filed to challenge Atiku; the Sokoto State Governor, Aminu Tambuwal; and the PDP over the presidential primary of the party.
But speaking at the commissioning of the Rivers legislative quarters, Wike warned that unnecessary distractions will not help Atiku.
"I want to tell the candidate (Atiku). It is the candidate group that are doing all these things. Let the world hear. They are the ones plotting all these things, thinking that they will spoil my name. You cannot," Wike said.
"Yesterday, they said I removed all PDP flags in Rivers State government house. We are supposed to be talking about how you will win election. These people around him (Atiku) are not doing him any favour, rather they are trying to make him not to win election.
"But if that's what they wish, I wish them good luck. But after my commissioning of projects, nobody should say Wike has started. Because when I start…[laughs] I've been on my own, they are looking for trouble when there is no trouble.
"My own is to come out and tell the world, 'allow peace to reign'. If you say your mother will not sleep, you too, you will not sleep at the appropriate time.
"So I'm busy commissioning projects. Tell those who are supporting you to also go and commission projects to win their states.
"This is our own campaign to make our candidate to win election. I didn't go to court. I have no reason to go to court. But those of you who are plotting and putting my name, shame will be on all of you. Enough is enough"