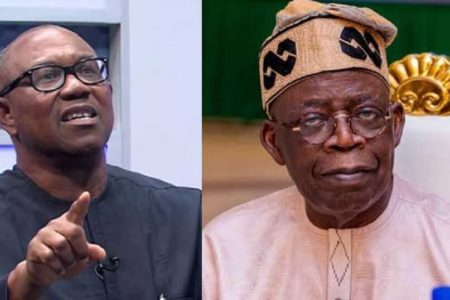 As the 2023 election gathers steam, Peter Obi, the presidential candidate of the Labour Party for the 2023 general election, has aimed a veiled dig at one of his opponents, Bola Tinubu of the ruling All Progressives Congress (APC).
POLITICS NIGERIA reports that "Emi lokan" (it's my turn) became a popular word associated with Tinubu after his outburst on June 3, 2022, when he vented his frustration during a visit to Abeokuta, Ogun State capital, saying it was through his efforts that President Muhammadu Buhari made it to Aso Rock after failing thrice.
Speaking at the Labour Party Leadership Retreat in Abuja on Monday, Obi argued that elections in Nigeria "must not be by connection" but should be grounded on "competence".
"We will do this retreat now, after election we will do another one, election next year will not be based on ethnicity, we have had it before, it would not be on religion," Obi said.
"There is no place that Christians buy things cheaper, there is no place that Muslims buy things cheaper. It will not be by my turn, it is nobody's turn. It must not be by connection.
"Election next year must be based on character and trust, it must be based on competence."