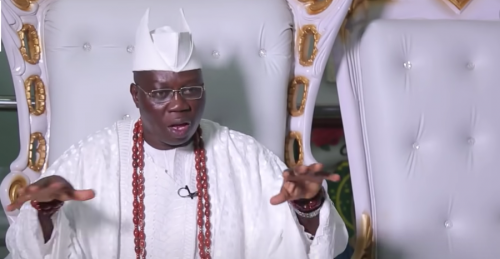 The Aare Ona Kakanfo of Yorubaland, Gani Adams, has warned those using his name for political mileage to leave him out of their attempts ahead of the 2023 general elections.
POLITICS NIGERIA reports that the 2023 Nigerian elections will be held, in large part, on 18 February 2023 (tentative date). During this presidential election year, the President and Vice President will be elected with incumbent President Muhammadu Buhari being term-limited.
According to Adams, he is interested in restructuring Nigeria — not politics.
"I hold strongly to my belief and ideology of restructuring that is centred on regionalism, where the federating units are allowed to develop at their own pace," media reports quote Adams as saying on Friday.
"I have said it several times that both the 1960 and 1963 constitutions had created the template for which Nigeria could be restructured.
"And up till date, nothing has changed in the country, even as the 2023 elections draw nearer.
"I have noticed with dismay that as elections draw closer, prospective political aspirants will be using my name to sell their candidates to the people.
"However, I will not allow anybody to stake my hard- earned name and credibility to get political mileage."