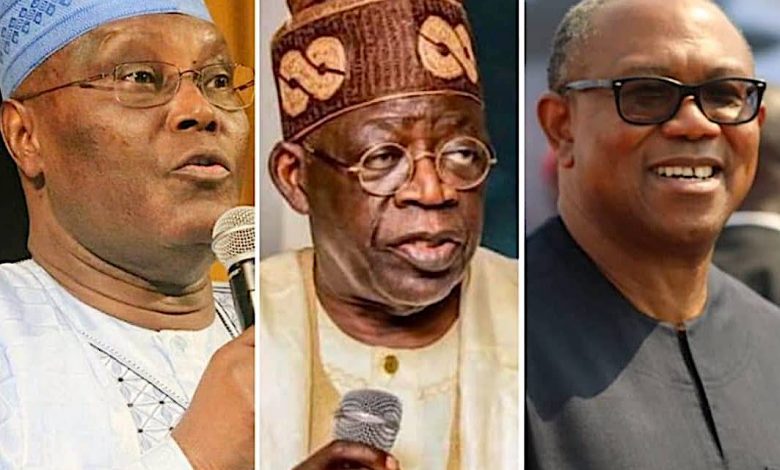 The All Progressives Congress (APC) presidential flag-bearer, Bola Tinubu, has once again taken a swipe at his major challengers in the forthcoming 2023.
POLITICS NIGERIA reports that speaking at the Nest of Champion Stadium, Uyo during his campaign rally on Monday, Tinubu, again, alleged that Atiku Abubakar, presidential candidate of the Peoples Democratic Party (PDP), plans to sell Nigeria.
The APC candidate also criticised Peter Obi of the Labour Party, who he said wants to take Nigerians back in time.
"My opponents will say that my vision for Nigeria is too big and too far away to attain. I say to them that their vision is too small and selfish. I want to take you to a better future where the government works even more on your behalf to improve your daily lives.
"My opponents want to take you back in time to a point where you, the citizens, labour and toil so they can get richer by the day while you get nothing. I want to move you along the path of progressive governance that leads to a more prosperous economy as well as abiding security and peace for all.
"This election will decide whether you believe you and the rest of the nation are entitled to the good things only progressive, compassionate and responsible governance can deliver or do you want to relinquish your future to Someone like Mr Privatize of the PDP or Peter the Stingy.
"One man wants to sell all of Nigeria's public assets and its future, so that only he and his tight club of conspirators can enjoy the meat of the land, while Mr. Stingy wants to do for the nation what he did to Anambra.
"He (Obi) let the people suffer while kept and hid their own money from them and their basic needs. He refused to save people so that he could save money," Tinubu said in his prepared speech.