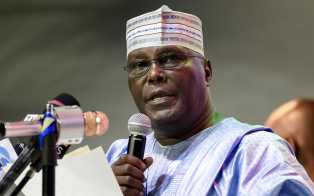 In the midst of rumours concerning his 2023 presidential ambition, former Vice President Atiku Abubakar has urged members of the Peoples Democratic Party to concentrate on strengthening the party in preparation for future polls especially those in 2023.
The immediate past PDP presidential candidate took to Twitter to express the need for the PDP to be robust before the next election cycle draws near.
He said:
Our preoccupation at this point in the OfficialPDPNig should not focus on elections, but on rebuilding and strengthening our party for the challenges ahead of us.
Mr Abubakar, few days past was rumoured of taking desperate measures to get the PDP's presidential ticket again come 2023, in an election Mr Buhari who defeated him in 2019 wouldn't be on the ballot after the two terms permitted by the Constitution.
Chairman of the PDP Board of Trustees, Walid Jibrin on Friday alleged threats to his life because he refused to voice out support of an automatic ticket for Atiku Abubakar in 2023.
"They said I should say Atiku is the man that I want because I am a leader."
The Chairman of the party's advisory body of elders said the unnamed men who allegedly visited him to threaten him on backing Mr Abubakar, were members of the party.
He added "They should not also forget that the party has a constitution and guidelines which say there must be primary for whoever wants to contest."
It should be recalled that Jibrin had been one of the overt supporters of Atiku in 2019. When the latter emerged as the party's flagbearer in the Portharcourt convention, he was fully backed by the PDP chieftain aswell.
As a party chieftain who is supposed to be impartial, it is unlikely that Jibrin's statement is in opposition to Mr Abubakar.
Atiku Abubakar aged 73 meanwhile has not expressed any interest in vieing for the top political post in the country again in 2023. He hasn't also dismissed those campaigning for his candidacy.
The former Vice President is favourably seen by many as holding sufficient political and financial resources to contest the 2023 presidential election under the People's Democratic Party, PDP more than anyone else.