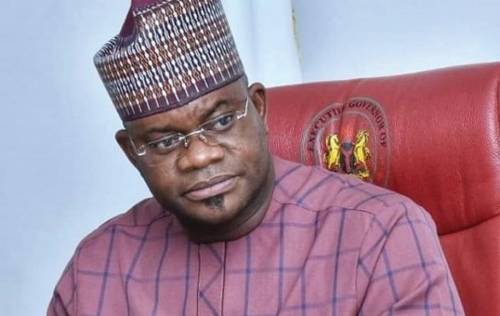 Governor Yahaya Bello has reacted to claims credited to the governorship candidate of the African Democratic Congress (ADC) in Kogi state, Leke Abejide.
Abegide, during a campaign at the weekend, alleged that Usman Ododo, the All Progressives Congress (APC) candidate in the forthcoming Kogi governorship election, was Bello's third term agenda.
But speaking through his Commissioner for Information and Communications, Kingsley Fanwo, Bello dismissed the allegation as baseless and unintelligent.
Fanwo, in a statement made available to journalists, argued that Abejide was one of those "just making up the numbers" in the lineup of governorship candidates.
The APC chieftain added that Abejide knows he is not in the governorship race, according to popularity polls, but could at best aspire to be "governor of his clan".
According to the commissioner, Abejide, whom he described as a "WAEC fee politician" was "obviously dazed" by the overwhelming support the APC candidate is receiving in Kogi State".
Fanwo lambasted the ADC candidate as a political opportunist whose aspiration "is based on a rail of ethnic opportunism and division."
"Hon. Leke Abejide's Campaign has been based on these spurious and senseless allegations. And each time I come across his statements, I shake my head at his level of pettiness, mediocrity and opportunistic desperation," Fanwo said.
"What Kogites want to hear is a clear plan on how to consolidate on the great achievements of the incumbent governor.
"But, expectedly, he has continued to miss the chance to impress the people. He has always been involved in sessions of desperation, opportunism, hate-peddling and crass ignorance of statecraft.
"Ahmed Usman Ododo emerged based on his pedigree and readiness to take the state forward. He was in Government for seven years and has a proper grasp of what needs to be done to consolidate on the widely acclaimed achievements of the current administration.
"Hon Leke Abejide is not ready for this level. He needs more years to understand that never again will Kogi go back to the era of dangerous political and ethnic division. We have passed that stage under the leadership of Governor Yahaya Bello."
The APC chieftain argued that his party's candidate, Ododo, always unfolded his plans to consolidate on the achievements of his boss and told the people how he would achieve that, noting that his commitment to a united and prosperous Kogi State could never be in doubt.
"Wherever our candidate, Alh. Usman Ododo, goes to, he demonstrates how he will develop the state. Nobody talks about ethnicity because it is no longer a part of our political lexicon in Kogi State. He discusses development, unity and collective prosperity," the commissioner said.
"Hon. Leke Abejide romances APC leaders at the centre, talks ill of them behind the scenes, and comes to Kogi to condemn the same party. That shows a politician without a clear-cut ideology, but self-serving and egocentric. Modern leadership does not accommodate garrulous and confused multiparty agents of confusion."
The information commissioner warned Abejide against making reckless allegations that he can't prove.
"As a second-term House of Representatives member, it is expected that Hon. Leke Abejide would have learnt some modicum of civility. His allegation that the Governor had perfected a plan to be collecting money from the State after his tenure is not only reckless, but a confirmation of the fact that Abejide is undeserving of occupying positions of responsibility," Fanwo added.
"I therefore challenge Leke Abejide, in line of the principle of 'onus probandi', to prove the allegation as the burden of proof is on him. Kogites won't trust a garrulous and careless talker with the Lugard House."
The commissioner called on Kogites to ensure peace before, during and after the election, assuring the people of the government's determination to ensure the election is peaceful.