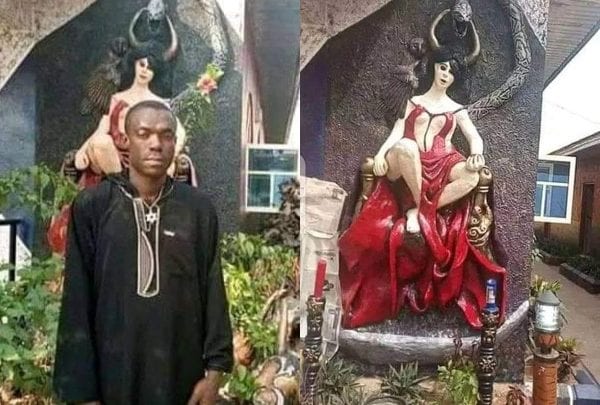 Some youths in Ohafia, Abia state took to the streets on Friday to protest the release of Ifegwu Udo aka Lucifer, founder of the Church of Satan, from prison.
POLITICS NIGERIA reports that Lucifer was granted bail in the sum of N1 million each with two sureties in like sum. He was, however, released after meeting the bai conditions.
Speaking to reporters on the protest and banishment of Lucifer, the president of Ohafia youths, Obasa Ohafia, described Udo as a persona non grata to the community.
He said, After the incident in Ohafia in which the police station, high and magistrate courts were burnt, we discovered after investigation that the policeman who killed the trader apprentice that triggered the protest came out from Lucifer's brothel where he got himself drunk before he shot dead the young man.
"Since he was arrested, calm returned to Ohafia, but on Monday we heard he (Lucifer) was released, the same day, an okada rider in Ohafia was killed and his motorcycle made away with. The youths then said if Lucifer could be released and the same day somebody was killed, it then means there will not be peace in Ohafia if he
returns".
Obasi said since creation, nobody in Ohafia was known by the name Lucifer, adding that since the name was strange to Ohafia, it means the person bearing it is a stranger and "this is why the youths are saying no to Lucifer, they don't want him again".
Obasi said Ndi Ezie Ogo (ruling chiefs) in Ohafia were in support of what the youths are doing and have authorized them to deal decisively with Lucifer wherever he is seen in Ohafia.
"The Ezie Ogos are in total support of our action, we embarked on the peaceful protest to tell Lucifer he has been banished from Ohafia. We are saying no to Lucifer, he is a bad influence to youths in Ohafia.
The youth leader foreclosed any brokering of peace between Ohafia youths and Lucifer for now, insisting that if the founder of the Church of Satan could be pardoned and allowed to return to Ohafia, it will be after 10 years according to the custom of the people. "Ever since he was away, our people have been sleeping with their two eyes closed, so, there is no point wanting him back", Obasi said.