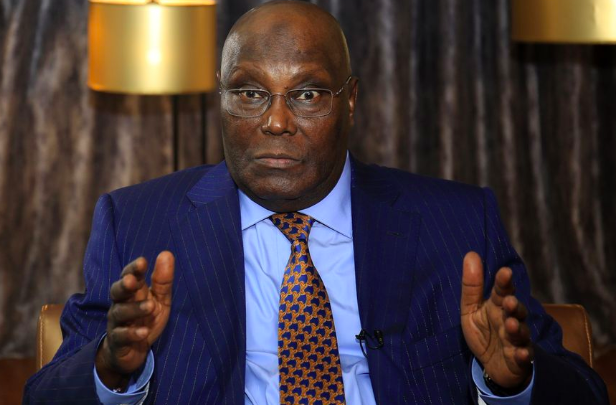 A rights activist, Morufu Smith, has criticized a former Vice President of Nigeria, Atiku Abubakar over the sack of 400 workers at the American University of Nigeria (AUN).
POLITICS NIGERIA reported how the institution owned by Mr Abubakar sacked its staff on Tuesday.
Speaking on the development, Mr Smith said: "Days ago, news filtered in that former Vice-President Atiku Abubakar, who donated fifty million naira towards COVID-19 treatment, sacked over 400 staffers in his university and many other workers in his communication outfits. The news could have remained a rumour, but for an exclusive report, Saharareporters did on the news and confirmed the mass sack."
"As newsworthy as the sacks were, it's also essential to recall that just three weeks ago, Atiku Abubakar was said to have berated the FG for not being able to give monetary palliative to Nigerians."
"It is, however, a wonder that the same Atiku who wanted the FG to give palliative to Nigerians could throw many people out of his employment."
"Access Bank received knocks from some Nigerians for sacking some of her staffers after having donated a billion naira to the FG.  Let's await those Nigerians who gave Access Bank knocks to reprimand their beloved Atiku for sacking his staffers after having donated a paltry fifty million naira (yes, paltry where a billion naira is roaring) to the FG."
"Is this not the same Atiku who wrote a long 'thesis' on how to save Nigeria from the economic clutches she's been thrown into by the ravages of COVID-19? Was there no tip in the 'thesis' that Atiku could thief, (Oh, he wrote it!) lift, rather, to keep his businesses afloat and save his sacked workers the agony of losing their jobs at this turbulently trying time", he said.
The mass sack is believed to be a result of the economic challenges the country is facing due to the Coronavirus Pandemic.