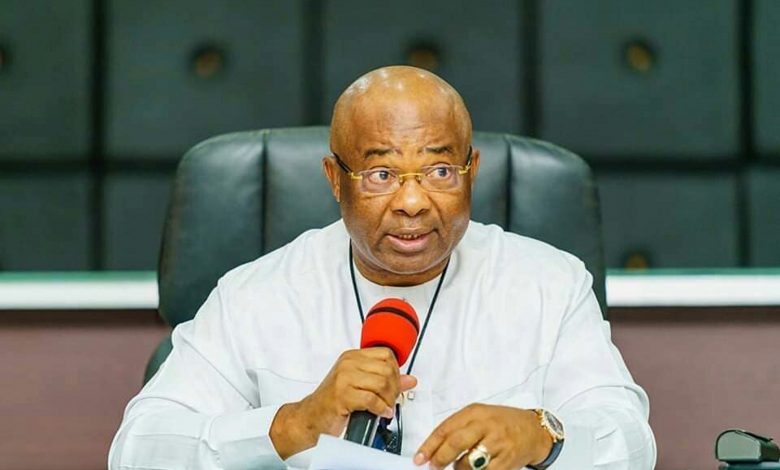 The African Democratic Congress (ADC) South-East Zone has urged Senator Hope Uzodinma and the All Progressives Congress (APC) in Imo State to get ready to leave the government house ahead of his tenure expiration period in 2024.
POLITICS NIGERIA reports that during a press briefing held in Owerri, Imo State on Saturday, the party's National Vice-Chairman for the South East, Comrade Chilós Godsent, made this demand on behalf of the party.
The briefing took place after the ADC South East Expanded Zonal Working Committee (ZWC) meeting, which focused on reviewing the 2023 general elections.
He said, "We are all witnesses to the criminal subversion of the will of the Nigerian people on February 25, 2023 in the name of shameless rigging and desperation to forcefully win the Presidential and National Assembly Elections by the ruling APC Government.
"Nigerians, the international community, and even the blind saw and condemned in its entirety the brazen rigging of the aforementioned elections which was characterized by intimidation.
"Governor Hope Uzodinmma-led government used every instrumentality and structure of the government within their disposal, both at the state, LGAs, wards, and communities levels respectively to mastermind the brazen election violence and intimidation against the electorates of Imo State in a desperate bid to shamefully rig the elections of the Imo State House of Assembly of Saturday, March 18, 2023 in the twenty-seven state constituencies in Imo State.
"Facts available to us showed that in that election, the African Democratic Congress (ADC) Imo State won over ten 10 seats, but what we witnessed that fateful day was the use of local government council sole administrators and security operatives to harass, intimidate and prevent the collation agents of opposition political parties from entering the Local Government Area Collation Centers in a bid to pave way for APC agents and election riggers to have the opportunity and free hand to mutilate and rewrite many election results to their favor.
"Thus, we wish to use this medium to announce to Imolites and Nigerians at large that the African Democratic Congress (ADC) South East Zone has issued a quit notice to the Senator Hope Uzodinma-led All Progressives Congress (APC) government in Imo State."
Furthermore, the opposition party announced that it has established a Contact and Mobilization Committee (CMC) and a Political Action Committee (PAC) to mobilise Imo State voters for the launch of a rainbow alliance with other political parties, organizations, and political blocs. According to the ADC, the ultimate goal of this alliance is to remove Governor Uzodinma and the APC from the Imo State Government House.