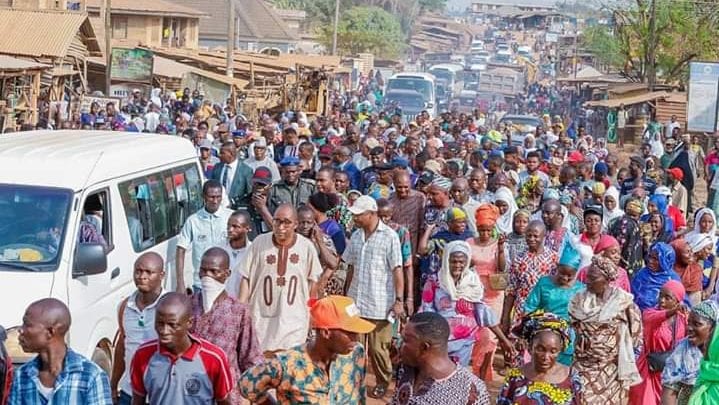 Almost two years after Gboyega Oyetola of the All Progressives Congress (APC) defeated Ademola Adeleke of the People's Democratic Party (PDP) in the last gubernatorial election, the former was received with praises at the later's constituency on Wednesday.
Mr Oyetola visited Ede, the residence of Mr Adeleke to inspect ongoing roads rehabilitation and construction in the area.
Despite the fact that Ede communities supported Mr Adeleke in the last election, many of the residents threw their weight behind Mr Oyetola in a carnival-like reception.
Singing upon the governor's arrival to Ede, residents were chanting "He is doing as he promised o, he is doing as he promised, Oyetola is fulfilling his promise".
POLITICS NIGERIA obtained pictures of how people trouped out in their hundreds to catch the glimpse of the governor.
After his inspection, Mr Oyetola appreciated the people for showing him love.
Beyond the road project, the governor also inspected the Primary Healthcare Centre at Ojo/Aro, which was recently revitalised by the administration.
He, therefore, called for more support of the people of Ede in particular and the state in general.