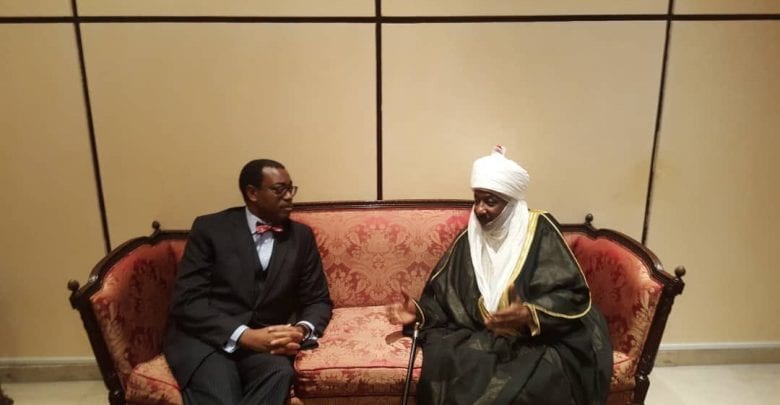 Former Emir of Kano, Sanusi Lamido Sanusi, has urged African leaders to support the embattled President of the African Development Bank (AfDB), Akinwumi Adesina.
Adesina is currently battling allegations of favoritism leveled against him by a whistleblower. However, the former Minister of Agriculture has maintained his innocence.
The United States government is insisting on an independent investigation after the bank's ethics committee had absolved Adesina of the allegations.
Reacting to the development, Sanusi has demanded that laid-down rules in AfDB are respected while investigating and dealing with allegations of misconduct.
The former Central Bank of Nigeria (CBN) governor also commended the Nigerian government and former President Olusegun Obasanjo for supporting Adesina.
"The excellent letter written by the finance minister says it all and I am pleased that President Obasanjo has weighed in on the matter. Every well-meaning African or friend of Africa should speak up on this matter.
"It is a simple adherence to global best practices in governance. AfDB has clearly defined rules and processes for investigating and dealing with allegations of misconduct. Everyone is innocent until proven guilty.
"Since those processes were duly followed it is unheard of for the rules to be changed because someone does not like the outcome," he told TheCable.
The former Emir added that Adesina's performance at the helms of affairs of the bank is the reason for rallying support for him.
"I have watched him at AfDB and his stellar performance is there for all to see. This is not about defending a Nigerian or a friend," he continued.
"It is about standing up for what is right, for justice and for principle. Africa and its friends must stand up at this point.
"My hope is that everyone will see reason and respect the rules. As the minister has said if you don't like the rules change them but not retroactively."