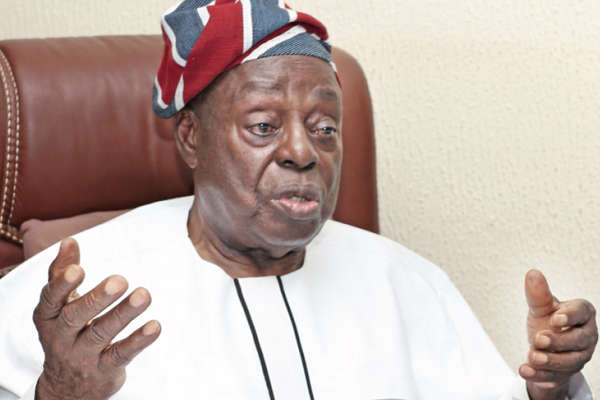 Afe Babalola University Ado Ekiti (ABUAD) founder and renowned lawyer, Chief Afe Babalola (SAN), has cautioned the 9th National Assembly against approving any new loan for the outgoing President Muhammadu Buhari-led government.
Politics Nigeria gathered that the president had recently written the Senate to seek approval for $800 million loan to finance the National Social Safety Network Programme of the government.
Buhari had said the loan to be secured from the World Bank was intended to expand coverage of shock responsive safety net support among the poor and vulnerable Nigerians to assist them in coping with the costs of meeting basic needs.
Reacting on Wednesday, May 24, at the Aare Afe Babalola 12th
Annual Public Lecture organised by the Nigerian Bar Association (NBA), Ado Ekiti branch, Babalola expressed disbelief that Buhari could be seeking a fresh loan a few days before the end of his tenure.
"I do not expect the parliament to accede to that request. How can you be an undeclared bankrupt country and yet be borrowing more money? I do not think that any right-thinking person will give us a loan with trillions of Naira debt. I believe and sincerely hope that the National Assembly will not approve it," he said.
The Deputy Vice Chancellor of the University of Jos, Professor Joash Ojo Amupitan (SAN), who was the guest lecturer at the occasion, advocated that Chapter II of the 1999 Constitution be made justiciable to promote accountability.
In the lecture entitled, "Addressing the Nigerian Economic Challenges through the Instrumentality of the Law and Future Economic Prosperity," he said it would make the nation's resources be utilised for more important projects, and reduce resources available for stealing and misappropriation under whatever guise.