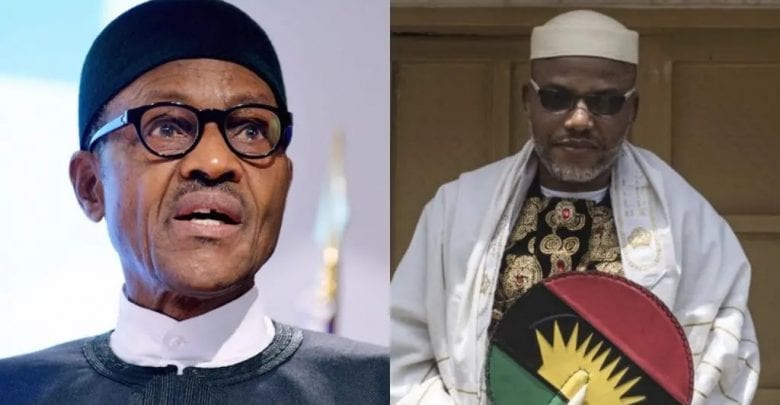 A lawyer, Ifeanyi Ejiofor, who is the counsel to the detained leader of the outlawed Indigenous People of Biafra (IPOB), Nnamdi Kanu, has advised the Federal Government to avoid any diplomatic conflict with the United Nations (UN) by releasing the separatist leader from detention.
POLITICS NIGERIA reports that Ejiofor declared that Kanu "is a political prisoner and must be freed immediately".
It would be recalled that the UN Working Group had requested Nigeria to ensure Kanu's "immediate and unconditional release".
The document indicted both Nigeria and Kenya for Kanu's unlawful arrest, illegal transfer, torture and continued detention, and recommended payment of adequate compensations to him.
UN Working Group took the decision on April 8, but made its recommendations public on July 20.
According to the document, Nigeria has six months to comply with the UN Opinion or the world body would be forced to take action.
Since the document was made public, Nigeria is yet to formally comment on the matter despite growing clamour for the country to comply.
Piqued by Nigeria's non-compliance, Ejiofor wrote on his known Twitter handle on Wednesday: "Have you heard anything further about those terrorists that attacked the Kuje Correctional Facility; the Presidential Convoy in Katsina and other terrorist attacks in Abuja, Federal Capital Territory? Has any arrest(s) been made in any of these cases? If yes, has the Culprits(s) been paraded? The Answer is Capital NO!
"This government spent huge resources to invade Kenya, abduct and extraordinarily rendition Mazi Nnamdi Kanu, merely for exercising his right to self determination, guaranteed by even the Nigerian Constitution and other Covenants and Instruments, but they are unable to go after terrorists operating in their backyard within the Nigerian territory.
"Do not forget in haste that war against Boko Haram terrorists is a war against the North. The sheer hypocrisy!
"The Federal Government should immediately and without any further ado comply with the directive of the United Nations Working Group that directed for the immediate and unconditional release of Mazi Nnamdi Kanu.
"Mazi Nnamdi Kanu is a political prisoner and must be freed immediately!"
Earlier, Ejiofor's colleague, Aloy Ejimakor, had made similar demand, advising that "Nigeria is duty-bound to implement this decision in its letters and spirit."