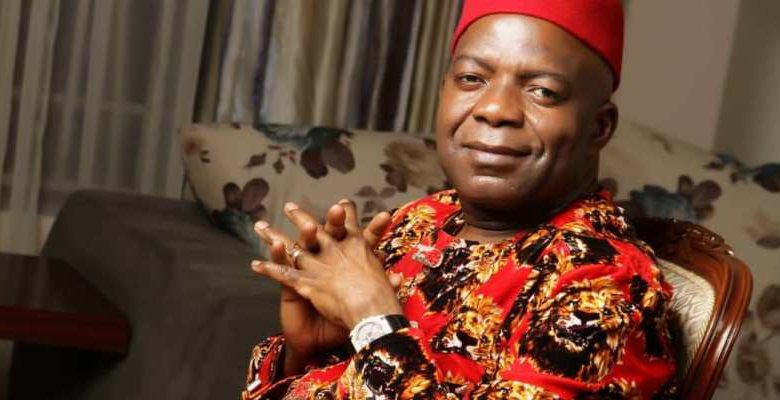 Mazi Alex Oti has showed yet again that he still lives in a dream land where wishes don't just become horses but ferocious and winged creatures.
His latest Press Release proved that the serial election loser has refused to see that the train had long left the station and he waits in vain.
The summary of the release shows that Oti has a strange obsession with the person of Governor Okezie Ikpeazu and probably has nightmares about him, which manifests in the release of incoherent statements filled with barefaced lies and a clear distortion of facts.
In Oti's eyes, Ikpeazu has done nothing since his election in 2015. He has built no road and hasn't paid a single dime as salary or pension to any worker nor retiree. For Oti, Ikpeazu has achieved nothing both on the economic front and in education. Oti would never see that enrollment in our public schools have tripled since the last three years. Oti doesn't see the potentials of the Enyimba Economic City Project. Indeed, if he had his way, he would have asked the Federal Government to withdraw their 20% stake in the project. He disagrees with the World Bank about the efforts of the Ikpeazu administration in engaging with development partners. He even doubts that Ikpeazu has paid a penny in counterpart funds anywhere.
As far as Oti is concerned, everything has become worse in Abia since Ikpeazu was elected. Oti grapples with an extreme form of political hypermetropia and executive myopia.
He refers to Abia Civil Servants as "starving", even when they are preparing to receive their August 2019 salaries. He paints a false picture of despondency.
Oti displays crass ignorance of the workings of government which manifests in his confusion over the difference between persons who work in Ministries, Departments and Agencies, and those who work for parastatals. He doesn't know that there are parastatals which are established by laws that grant them independence to manage their affairs, and that the involvement of the state government in their finances are limited to the payment of subventions. He would never tell anyone that there are parastatals in Abia State that pay their workers even before some banks.
Oti came into the battle for the office of Governor with a fake entitlement mindset. He dressed himself in a mischievously flowing messianic gown and created the impression that he is a man from outer space with a magic wand to solve all the problems in Abia State. He would never tell anyone that he was a major stakeholder in the governance of Abia State in the last administration.
Two days ago, the Election Petition Tribunal sitting in Umuahia heard closing arguments from lawyers to all the parties in the matter. Governor Okezie Ikpeazu was in Court. Oti was there too. Both men had their supporters both inside the court room and within the premises of the Tribunal. Both men were hailed by their supporters when they arrived the Tribunal and when they left. Many supporters of both men wore dresses depicting their support to their men.
But Oti, in his release, would have you believe that only the supporters of the Governor were in court that day. He also claimed that the Governor's supporters were unruly and were abusing him. That is not true.
I was personally in Court that day. No such thing happened. Oti had as many supporters in Court as the Governor. None harassed the other. Even his Media men posted pictures showing his supporters in Court. The picture I used in this write up was taken by Oti's Aide in Court that they. They posted it. As you can see, it's filled with Ikpeazu's unruly supporters!
I was standing just beside where Oti's vehicle pulled up when he arrived. His supporters had gone to the gate to receive him and when he stepped out of the vehicle, they were hailing him as "His Excellency". So it is shameful for Oti to claim that supporters of the Governor were unruly.
Oti lives in a world of his own where the purchase of expression of interest forms to contest for Governor turns a man into an emergency "His Excellency".
Oti's reference to the demonstration by pensioners is instructive. We concede that pensioners are owed in Abia State. It is an unfortunate situation and the Government is working hard to sort out the issues. However we must state that even the pensioners themselves understand that the pension challenge is as old as the state and Government is doing its best to grapple with the 450 Million Naira monthly pension bill and have continued to work with us to find ways of managing the challenge. Last month, they were paid and they will be paid again this month.
The leadership of the Nigeria Union of Pensioners, Abia State Chapter had long distanced themselves from the protest which was organized by a renegade splinter group of about 23 persons led by a man who has been on suspension from the National leadership of the Union since last year. While that so called protest was going on, the leadership of the pensioners and other Trade Unions were in a meeting with officials of the State Government who are members of the Committee set up by Government to sort out and prioritize these issues.
It is also intriguing that the "protest" took place on the same day that Oti himself was in Umuahia to attend Court. Yes, one of those few days he leaves his comfort zone in Lagos to come to Abia State. We fully understood the dynamics that played out. We knew how the protest was organized. We know who funded it. We knew about the meetings.
As a Government, we do not want to politicize the situation of our pensioners. We stand with our pensioners and we are working very hard to resolve this age long problem in Abia State.
Oti also claimed that the Governor "rolled out the drums" to celebrate the 28th Anniversary of the creation of Abia State. That is another lie. No drums were rolled out anywhere, except maybe in Oti's imaginations. The celebrations were low keyed. No parties were held anywhere. The only things that took place were the Broadcast of the Governor and the modest gathering that took place at the International Conference Center where some distinguished Abians were conferred with awards for their roles in the development of the state over the years. Not a single government official got that award and most of the awardees were men and women in their 70s. Is that what Oti refers to as rolling out the drums?
Oti is a very sad man.
A sadness watered by his serial disappointments in politics. He desperately wants to be Governor but lacks the requisite goodwill to push it through. Two times he has contested and two times he has lost. His performance in the 2019 election is shameful to say the least. Oti came a distant third winning elections in two out of 17 local government areas of the state.
Oti is a very sad man.
It is understandable. He was one of the three top contenders for the seat of Governor in the 2019 elections. The other two are Governor and Minister today while he is left with nothing but issuing badly written statements which have become what Prof Wole Soyinka described "vomitorium" of political frustrations.
Oti is a very sad man.
That is why he is on a wild goose chase at the Tribunal, seeking for the cancellation of the election. He is not asking to be declared Governor. He knows he can't ask for that. He came third in the election, so he wants the election cancelled. His plan is to turn back the hands of our clock and subject our people to another round of campaigns and election. He claims the elections were rigged in the 15 LGAs where he lost while they were fine in the two where he won. For him, once he is not Governor, no one else will be and have peace.
In 2015, he was in court for more than two years. Even after losing, he never went away. He quickly rushed into the case filed by Uche Ogah then and sought to reap the fruits of a case he never instituted. No wonder the Court of Appeal called him a meddlesome interloper.
Oti is a very sad man.
He knows he has no case. Even his lawyers know too. Their language and arguments at the Tribunal show they don't even believe in the man's case. Don't blame them. They have to do something to justify their hefty fees.
The major plank of their argument is that Electoral Guidelines issued by INEC have more weight before the Law than the Electoral Act passed by the National Assembly. They are urging the Tribunal to rule that the Guidelines amount to an amendment of the Act. Even a first year law student knows that an administrative policy like the Guidelines cannot supplant a Principal legislation.
They are asking the Tribunal to cancel an election on the strength of the evidence of about 60 agents out of a total number of close to 2000 agents. Not even a Motor Park Tribunal will be swayed by such lame and pedestrian argument.
They alleged that votes were arbitrarily allocated to candidates in the election but they forgot that such claim amounts to a criminal allegation under the Electoral Act which requires a standard of proof higher than the normal preponderance of evidence. They didn't remember that he who alleges must prove and that our courts have held in a long line of cases that even in a civil case, once a party raises a criminal allegation, the standard of proof must be BEYOND REASONABLE DOUBT.
I confirmed that Oti's lawyers don't even take him seriously when they introduced him to the Tribunal as the "incoming" and Ikpeazu, the "outgoing". Oti smiled to himself. He was happy. He had hit the jackpot. Unknown to him, lawyers are masters in the art of strategic deception. I am one, so I know. Again, balance of fees must be paid.
Oti's messianic claims have absolutely no basis. He presides over a deeply fragmented political party. Since his unfortunate and desperate stray into APGA a few weeks to the 2015 till date, the party has known no peace in Abia State. Even several months after the 2019 elections, the party remains deeply divided. As at today, there are still two parallel executives of the party with each maintaining an independent party secretariat in Umuahia from where they churn out very childish and ridiculous press releases. This is why as Chief Press Secretary, I have refused to respond to any of them. I have no time to respond to confused people.
Oti has failed woefully in bringing his party men together under one umbrella. The party national leadership had long distanced themselves from him and his faction in the State. Throughout his ill fated 2019 campaigns, the National Executive never went anywhere with him. He was never seen for one day with their Presidential Candidate who never stepped his feet into Abia State. Oti doesn't care about anyone else. He simply wants to be Governor. Nothing more. Nothing less. It remains to be seen how a man who is unable to manage a small party in the state will effectively manage a state government where there are multiple interests competing for prominence.
It is needless discussing Oti's story in Diamond Bank. The story is already in the public domain. It is intriguing that the only bank he ever had the privilege of serving as Chief Executive in his entire banking career went down just a few years after he hurriedly left the place with his gubernatorial pipe dream.
Oti should learn to manage his frustrations. He should move on. He is not the first man to lose an, sorry, two elections. The train he desperately seeks to board had long left the station. The heavens will not fall simply because he was rejected by our people.
We had long forgotten about Oti and we don't intend to join issues with him but he keeps stoking the embers of confusion and pouring his frustrations in public.
We may have our challenges but Abia is on course, whether Oti wants to believe it or not.
I have a funny feeling that Oti will contest again in 2023. I also have a funnier feeling that he will fail again.
Happy weekend, "His Excellency".