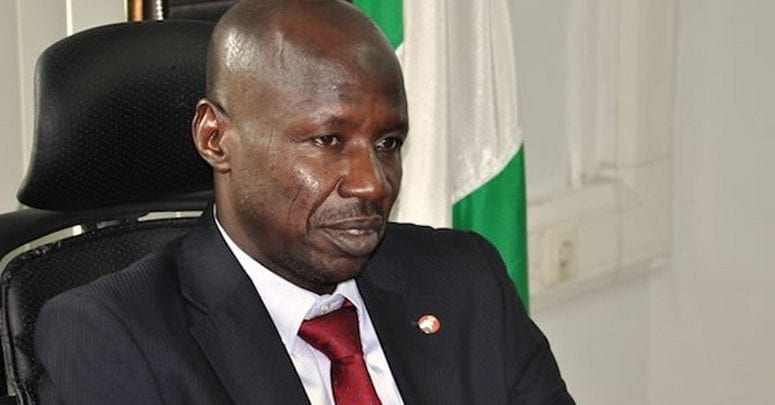 The suspended acting chairman of the Economic and Financial Crimes Commission (EFCC), Ibrahim Magu, has denied the allegations leveled against him by the Minister of Justice and Attorney-General of the Federation, Abubakar Malami (SAN).
Recall that Justice Ayo Salami Probe Panel submitted its report on the probe of Magu to President Muhammadu Buhari on Friday. In its report, the panel stated that Magu diverted recovered assets and was found guilty of corruption. The panel, however, recommended the sack and prosecution of Magu and the appointment of a new chairman from outside the Police Force.
Magu, in his reply to the panel's report, noted that he did not divert any recovered assets during his tenure, saying that the allegation leveled against him is false.
He disclosed that not a dime of the recovered funds was converted to his personal use, challenging Malami to produce evidence of such fraudulent conversion. Magu noted that all the recovered assets were managed in line with the EFCC (Establishment) Act, 2004.
The former EFCC boss disclosed that all private persons who are victims of fraud were contacted by the agency and were given back assets stolen from them. Magu added that other victims of scammers such as foreign nationals and federal government institutions also benefited from the recoveries.
According to Magu, recoveries made to these victims do not pass through the dedicated recovery account but directly to the fraud victims. He disclosed that these recoveries were not captured in the report of the Presidential Committee on Audit of Recovered Assets (PCARA) that audited EFCC's assets between 2015 and 2018.
He also noted that the foreign exchange component which was paid into dedicated accounts at the Central Bank of Nigeria (CBN) was not captured in the Justice Salami panel report.