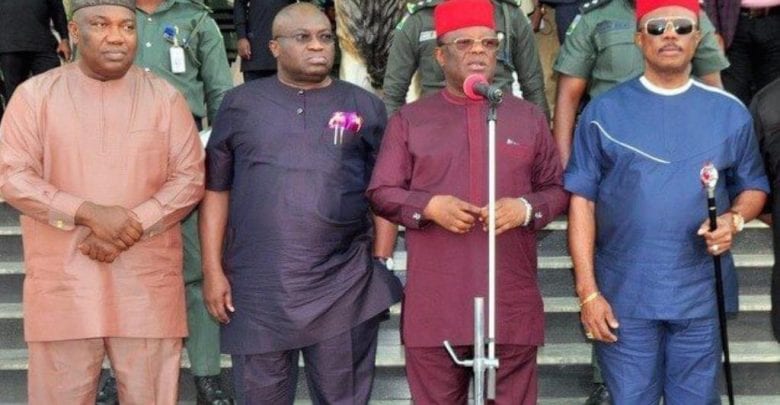 SouthEast Governors have expressed their displeasure over the violation of the inter-state lockdown aimed at curbing the spread of the coronavirus pandemic.
This was discussed at a virtual meeting of the Governors on Thursday presided by the Chairman of the Southeast Governors' Forum, Governor David Umahi of Ebonyi state.
In a communique of the meeting obtained by POLITICS NIGERIA, the Governors commended the Coalition Against COVID-19 (CACOVID program) led by Alhaji Aliko Dangote and Dr Godwin Emefiele (CBN Governor) for furnishing isolation centres in the States.
"For these, we commend them all. CACOVID have also started the distribution of food items like 10kg bags of rice, tomatoes and some other food items with the plan to reach at least 10% population of every State in Nigeria. We also wish to appreciate the team for their gesture."
Also, the Forum reviewed the current lockdown order within the interstate borders and agreed to strengthen it further with new measures.
The Governors, however, expressed their displeasure at the interstate border lockdown abuses.
" We are very unhappy with incidents of interstate border lockdown abuses that led to the movement of non-essential movement of persons. We request the security personnel at our border posts to take this task very seriously to curtail the spreading of the pandemic,"
In its effort to curtail the further spread of COVID-19, the group promised to continue to enforce the NO MASK NO MOVEMENT, social distancing, regular hand washing and sanitary guidelines.
Speaking on the influx of almajiri into the states, the Southeast Governors expressed worry about the movement of the almajiri youths concealed in food and cement trucks into the southeast region.
"While we commend northern governors on their decision that almajiris should go to their States of origin, we also advise our people against coming back to their States to forestall further spread of the pandemic."
"We, therefore, request our community leaders to get passionately involved to ensure that such illegal movement is not allowed," the communique read.