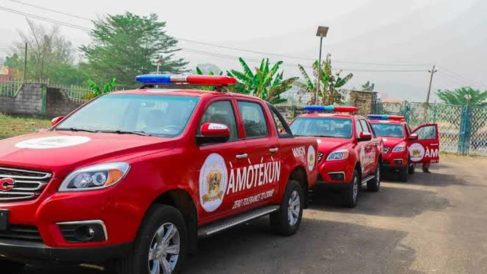 The national president of the Miyetti Allah Kautal Hore, Bello Bodejo, on Saturday called for the immediate arrest ot Yoruba leaders supporting the creation of Amotekun.
Bodejo, in an interview with the Sun, claims there is an ulterior notice behind the creation of the security outfit. According to him, the state security agencies are doing well enough to keep people and their property safe. He added that Amotekun is just an anti-Fulani agenda, one that is being set up to deny the Fulani access to their "God-given" land.
Bodejo stated his support of the stance taken by the Attorney-General of the Federation and Minister of Justice, Abubakar Malami (SAN), who said the security outfit is illegal.
For him, not only should the outfit be banned, its proponents should be arrested.
He said, "I read it on the internet. However, it would have been a good development, if the national security agencies – the Army, the Police, the DSS, the Civil Defence, etc, were not living up to expectations.
"Will Amotekun have more security intelligence than these national security organizations? The answer is no.
"Anything security should be left with those security organisations, so, I don't know the reason for this one from the Southwest, except that it has sinister motive.
"Look at how the vigilantes are causing troubles all over; there is what is called interest in setting up this type of thing. Look at Zamfara where the vigilantes and the Fulani are having issues.
"They should not only ban it, but should arrest the leaders of this group. Like I said earlier, nobody or group has more security intelligence than the Police. The Army is doing enough; the DSS is also doing enough, likewise the Civil Defence.
"They are just doing all these things in order to stop the Fulani from coming into their area; it is just a hidden agenda to prevent the Fulani herdsmen from grazing in their God-given areas.
"If you say you set up Amotekun to protect your region, what about the Northern Nigeria, what about the Southeast and the South-South and other places that don't have that kind of thing. Nigeria is one; everything is one, unless they want to divide the country.
"I know some of their leaders have good hearts, but others have evil hearts, and those are the ones coming up with this agenda that the Fulani can't do this and the Fulani can't do that; all these things are happening because of Fulani; they are just against the Fulani.
"How many Fulani have been involved in crime and criminal activities in the area? Go and check, those people they have been parading as criminals are not Fulani; if they see a Fulani with his cattle inside the bush, they will be calling the Commissioner of Police, DPO, Area Commander and other personalities that they have caught a Fulani committing one crime or the other.
"The moment this is done, the herdsman is scared and he would be made to sell all his cows to free himself from that wicked accusation, that is why you see some of these people are jumping from here to here supporting illegalities and they have their aim."