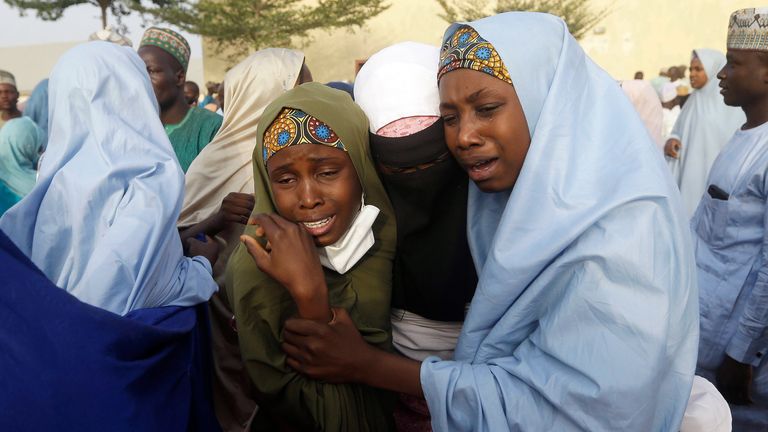 At least 939 students have been abducted from various secondary and tertiary institutions from December 2020 to May 2021, POLITICS NIGERIA can report. According to a security report reviewed by our correspondent, 420 students were abducted at various schools in December.
While 333 students were abducted in Kankara in Katsina State, 84 students were abducted in Dandume LGA in the same state. Three others were kidnapped in Edo and Delta states. In February, 27 students, three staff members and 12 of their relatives were abducted in Kagara, Niger State. Another 279 students were again abducted in the same month at Jangebe in Zamfara state.
POLITICS NIGERIA reported how 39 students were abducted in Afaka, Kaduna state in March and 23 abducted in Greenfield university in the same state in April.
On May 30, another 136 students were kidnapped in an Islamic school in Niger. The security challenges in Nigeria have gone beyond kidnapping of students. The country is also faced with secessionist violence with many calling for the resignation of the president for "failing" to secure the country.
Just last month, a lawmaker from the president's ruling All Progressives Congress (APC), Smart Adeyemi, was moved to tears while contributing to a debate in the Senate on the dire security situation in the country.
Nobel laureate, Wole Soyinka, said the current situation of the country shows that the country is a war zone.
"I think we are not only at war, we are all in a war zone. There is no question about that because now, the sense of individual, collective, and community safety has virtually become equivalent to a question of survival," he said in December 2020.
He argued that President Muhammadu Buhari has failed to change anything since he got to power six years ago.  "Really, the more things seem to change, the more they remain the same. In terms of realistic differences between material existence, day-to-day existence, or even co-existence, I think humanity is more or less the same."
"There is a greater dependency on religion because the nation is desperate. When a nation is desperate, it turns to the supernatural."
"Religion has always been with us. These days, however, you can't walk one yard without stumbling on religion. Religion is today one of the fastest-growing businesses in the nation," the Nobel laureate noted.
On the other hand, the Sultan of Sokoto, Muhammadu Sa'ad Abubakar said bandits who are becoming more audacious are fast overrunning the Northern parts of Nigeria.
"We have to sincerely and seriously find solutions to the problem, otherwise, we will find ourselves soon, in a situation where we would lose sleep because of insecurity," he said.
In 2018, President Buhari gave approval to the military to make weapons purchases worth $1 billion, former defence minister Mansur Dan Ali said then. The jets have not been delivered to Nigeria and the Nigerian army continues to blame inadequate weapons and personnel for its losses in the fight against insurgency.
Speaking on ways to curb this menace, particularly kidnapping of students, Matt Eze, a security analyst believes the presidents' "lengthy and constant medical trips abroad left a leadership gap."
He advised that the president should be willing to negotiate to have a peaceful nation. POLITICS NIGERIA understands that globally, governments engage insurgents in talks and negotiations towards amicable settlements when things get bloody as they are in Nigeria today.
Many developed countries battling terrorists, including the U.S., have engaged in negotiations with them even though they sometimes deny such publicly. It would be recalled that late President Umaru Yar'Adua in 2009 negotiated with armed groups by giving amnesty to Niger Delta militants with the  aim of reducing unrest in the oil-rich region.
While authorities in Katsina, Sokoto, and Zamfara states initiated direct negotiations with armed groups last year, many Nigerians kicked against this saying it would further embolden the criminals.  In 2018, lawmakers said the release of some of the Chibok girls kidnapped in April 2014, involved payment of ransom.
But how long will a nation continue to do that?
A security expert, Timothy Avele, in his reaction to the security situation in the country said there is lack of improvement because of non-coordination of security agents.
"Security situation as it stands now is getting worse. A day hardly passed without hearing one form of insecurity or the other in many parts of the country. The government is trying but it is not enough, it needs to do more. The missing link seems to be lack of proper coordination among security agencies and appropriate intelligence application."
"Many states are simply sitting and waiting for FG to come and remove criminal enterprises in their state instead of doing something concrete to battle the scourge. We can only expect to see results when there's a political will to end insecurity across Nigeria. A lot of sacrifices and compromises on the part of the government, institutions, security agencies and citizens is a must," he said last week.
President Buhari had earlier said the government would install CCTV cameras along highways among other measures to check violent crimes. However, little or nothing has been done to perfect that. Also, the president in 2018 said his government was refocusing its fight against insecurity by investing heavily on the country's intelligence gathering capacity but nothing has changed.
On his part, a former Vice President, Atiku Abubakar, urged the federal government to recall retired military officers as a solution to the prevailing security challenges of the country.
"The security situation in Nigeria is deteriorating rapidly and ordinary Nigerians are living in fear for their lives and the lives of their loved ones. Nowhere seems to be safe. Farms, markets, schools, homes, mosques, churches, and urban areas are all affected," he said in May.
"Now is the time for decisive leadership and I call on the Federal Government to consider recalling all ex-servicemen and women, who are willing to return to service, and take the fight to the insurgents until they are rolled back and defeated."
Mr Abubakar said it serves no purpose to allow "these valuable national assets to lie fallow when there is an existential threat to our nation".
"Call them up. Immediately. Mobilise them to the field. The time has come for us to put in all our effort and stamp out this menace from our nation," he told the federal government.