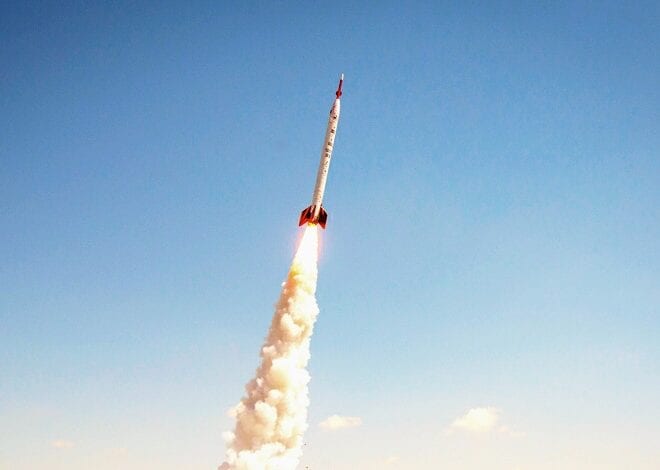 The Internet went agog with a viral picture depicting a rocket launch in Nigeria last week. Several interpretations have been given the picture with eleven engineers suspected to be carrying out a rocket launch exercise.
Out of these interpretations, one stood out. And that is the comparison with the same exercise in Ethiopia, with insinuations that the Nigerian version connotes mediocrity.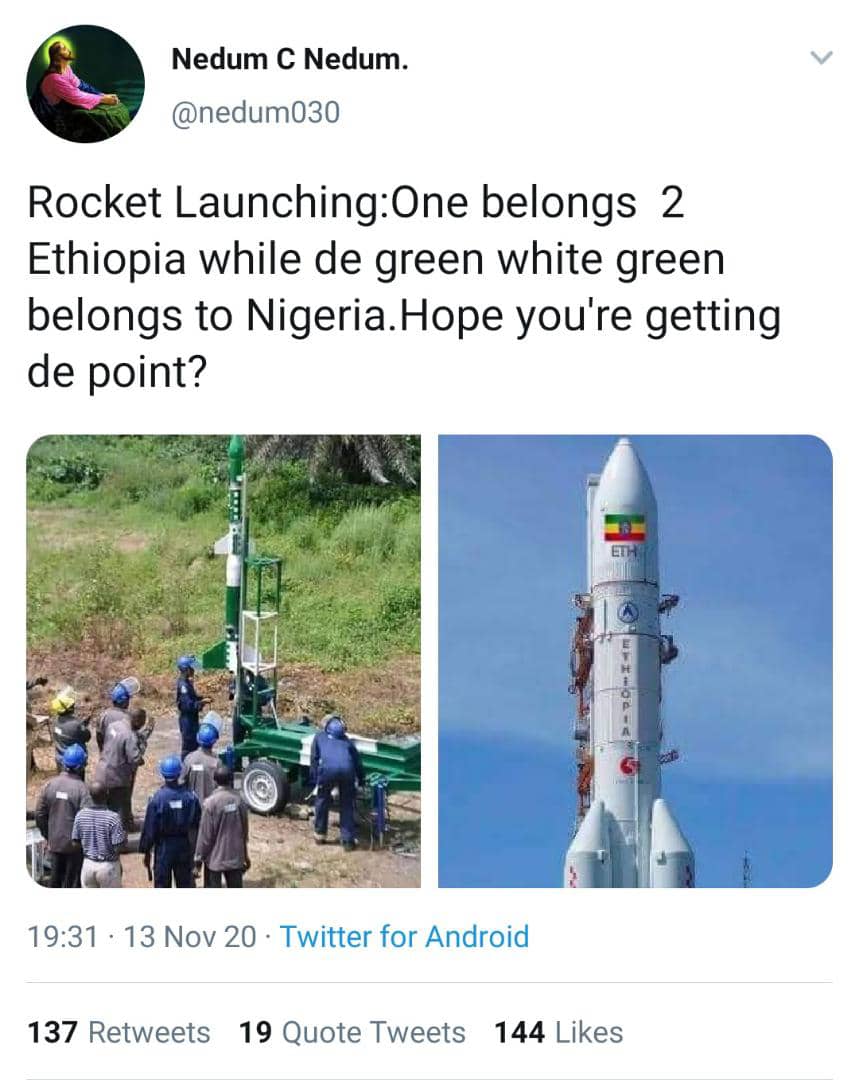 Ethiopia's first Earth observation satellite, the Ethiopian Remote Sensing Satellite (ETRSS-1), was successfully launched with a launched vehicle from the Taiyuan Satellite Launch Centre in China in 2019.
The satellite is used for agricultural, climate, mining and environmental observations, allowing the country to collect data and improve its ability to plan for changing weather patterns.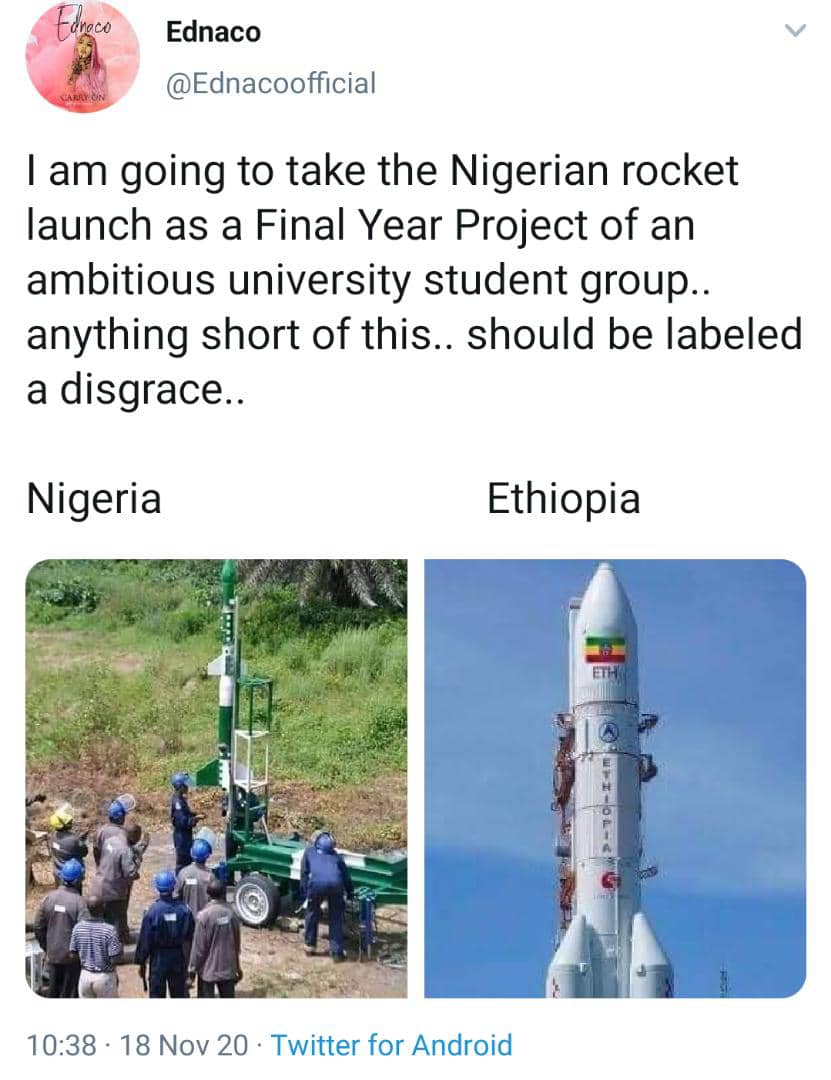 How important is a rocket?
According to the Rocket Propulsion Element, a book on Aerospace Engineering, a rocket is a spacecraft that obtains thrust from a rocket engine. The rocket engine exhaust is formed entirely from propellant carried within the rocket.
This spacecraft is used as a launch vehicle for artificial satellite, space exploration, amongst other functions.
It signals a technological advancement as not all countries have rocket launch systems which place a satellite into orbit. For instance, in order to enhance communication, a communication satellite is stationed in space for the purpose of telecommunications.
In terms of countries with the most satellites the United States of America leads with a total of 859 satellites while China is second with 250 and Russia, third with 146.
Currently, Nigeria does not have any launch system and it relies on Chinese and Russian rockets to launch its satellites into orbit. Nigeria launched its first satellite into space in 2003 and it has 6 Operational payloads in orbit as of April 2020. https://aerospace.csis.org/challenges-and-opportunities-of-nigerias-space-program/#easy-footnote-bottom-19-1540
So, what is Nigeria doing?
The picture circulated last week was from the Centre for Space Transport and Propulsion (CSTP), Epe, Lagos, a centre dedicated to researching and developing space rockets.
According to Television Continental (TVC), the engineers in the picture were carrying out a propulsion testing on its rocket. The test is one of the major steps in evaluating a rocket engine's ability to produce thrust. After all, this is the whole point of the propulsion system.
The propulsion testing can be done on a small scale or a large scale depending on the model of the scientists.
Just In: Engineers at Centre for Space Transport and Propulsion (CSTP), Epe, Lagos, carrying out propulsion testing on its rocket, the centre is dedicated to researching and developing space rockets, that will be "launched from Nigeria one day" @Dr_OgbonnayaOnu @NigeriaGov pic.twitter.com/iKyVwSMzQd

— TVC News (@tvcnewsng) November 13, 2020
Large scale: https://youtu.be/ORHPtudNUDo
Small scale: https://youtu.be/pX-4wZ0XfGc
However, the goal of CSTP is to enable Nigeria to operate a spaceport with the capability to launch commercial satellites into Low Earth Orbit (LEO), Geosynchronous Equatorial Orbit (GEO), and interplanetary space by 2030.
According to an official document from the Centre obtained by Space in Africa, CSTP carried three successful rocket test flights: CSTP_TL_1 launched on the 24 April 2019 while CSTP_TL_2 and CSTP_TL_3 were launched on the same day, 25 June 2019.
On 25 June 2019, the then Director-General of NASRDA, Prof S.O Mohammed commissioned two modern facilities at the Centre: a mechanical workshop and advanced propulsion complex to support the Centre's research and development activities.
Although the Centre seemed to have fallen short of its development timeline, officials believe they can still achieve the goal of launching satellites from Nigeria by 2030 if the government prioritizes funding for the project.
It would be one of Nigeria's achievements in the world of technology if it launches its own rocket space in 2030.