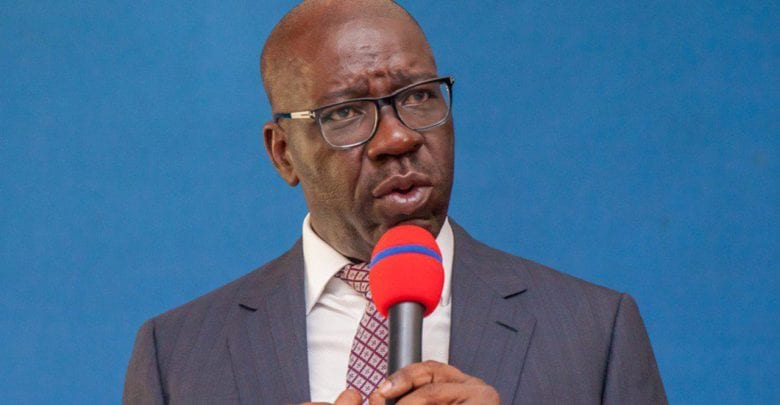 Crusoe Osagie, the media aide to Edo state Governor, Godwin Obaseki, says the All Progressive Congress (APC) national chairman, Adams Oshiomhole, is reaping the consequences of his illegal actions.
It should also be noted that Messrs Oshiomhole and Obaseki have been at loggerheads in recent times over the control of Edo state and the party's activities.
Recall that amidst the leadership crisis in the ruling party, Oshiomhole was suspended as the national Chairman.
Mr Osagie, who spoke with POLITICS NIGERIA on Wednesday evening, was responding to allegations of anti-party actions made by the Edo state Publicity Secretary of the party, Chris Azebanmwan, against Governor Obaseki.
This paper earlier reported how Mr Azebanmwan accused Obaseki of being desperate for a return ticket and masterminding Oshiomhole's suspension.
He said Obaseki has turned the State Working Committee (SWC) of the party to an arm of the state government where meetings are held in government house, resolutions drafted and signatures on the attendance list appended as if they were signed in support of the resolutions.
Meanwhile, Mr Osagie debunked the allegations saying, Oshiomhole's incompetence is not limited to Edo state but also played out in other states.
He noted that that the national Chairman was the reason why the APC lost in Zamfara as a result of not fielding candidates as at when due.
"He (Oshiomhole) and the likes of Azebanmwan factionalized the party. They created the Edo People's Movement (EPM), which is against the constitution of the APC. Azebanmwan thought they could do and undo because of the support of Oshiomhole, being the national Chairman," He told POLITICS NIGERIA correspondent.
Speaking on Obaseki's alleged desperation, Osagie emphasized that the Governor still has a hold of the party irrespective of the crisis. "How can someone who is in control of a party engage in anti-party activities?" He probed.
Nonetheless, Obaseki's media aide stated that they are ready to extend the olive branch to the Pro-Oshiomhole faction and settle all scores if they are willing.