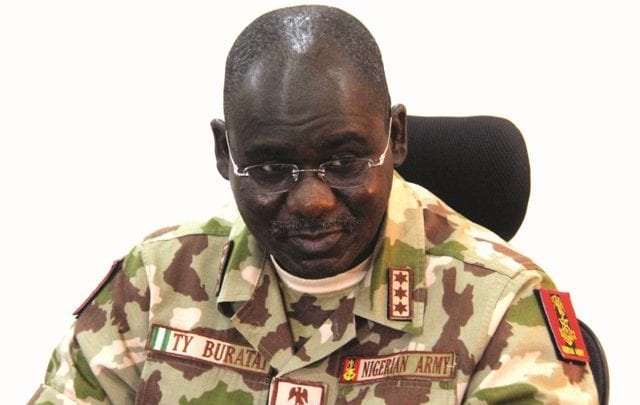 The Chief of Army Staff, Lieutenant General TY Buratai has encouraged officers and men of Operation lafiya Dole to be strong in what he called "the final clearance of Boko haram and ISWAP terrorists".
Since 2014, the two sects have unleashed terror in the Northern part of the country.
Although President Muhammadu Buhari claimed to have defeated the terrorists "technically", series of attacks have been launched by the terrorists in recent times. In its bid to put an end to the menace, recently, the Nigerian army led by Buratai has promised to wipe out the criminals by besieging the base of the sects in Borno state.
However, the words of encouragement from Buratai was contained in a special message to the soldiers which was forwarded to POLITICS NIGERIA on Thursday evening.
"We are right here right now to carry out our solemn and righteous constitutional duties. We are here to flush out these criminals who have been terrorizing and killing innocent and law-abiding Nigerians,"
"Officers and men of the Nigerian Army owe it a duty to save our country from the menace of terrorists, bandits and all forms of criminalities. We owe it a duty to the Nigerian people and to our President and Commander in Chief, President Muhammadu Buhari GCFR, for the confidence he has reposed in us to achieve the mandate the Constitution of the Federal Republic of Nigeria has given us. We owe it a duty to serve our fatherland and protect our fellow countrymen and women!"
"Ours is a professional calling, a call to serve our dear country; a call to defend the territorial integrity of our fatherland, which we must all be proud of. We must also be proud of our calling as professional soldiers and patriots. Therefore, we must go all out to stop and eliminate these criminals. We must do it now. There is no better time than now!"
"In this our honourable mission and endeavour, there is no room for the chicken-hearted. The Nigerian Army of today is for the committed, disciplined, patriotic and selfless officers and soldiers which I believe you all are. There is no room for cowardice and no room for the lily-livered ones. From now on it is FORWARD EVER BACKWARD NEVER!"
"The sacrifices of our fallen heroes must never be in vain! Nigerian Army officers and soldiers have no cause to despair as ours is a noble and patriotic cause. It is a cause we must all be proud of," the statement read in parts.
He urged the commanders at all levels to hold firmly to their officers and instil confidence through your words and actions.
"In order to win the trust and confidence of their subordinates, commanders must never show fear or fatigue. If they do that, they will lose all moral authority to lead and command their men, " He said.