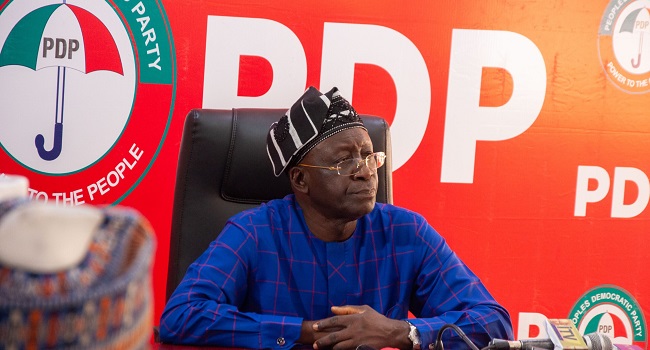 A member of the Peoples Democratic Party (PDP) National Executive Committee (NEC), Timothy Osadolor has said that anyone ruling out the chances of Iyorchia Ayu returning to office as National Chairman of the party "does not know the stuff he is made of."
POLITICS NIGERIA had reported on Tuesday that Umar Damagum was announced as Ayu's replacement in acting capacity.
This comes two days after Ayu was suspended by his ward in Benue State.
Prior to this development, there had been intense calls (since last year) spearheaded by Governor Nyesom Wike of Rivers State, for Ayu to step aside for a Southerner to take over as the Chairman of Nigeria's main opposition party.
Ayu's removal as chairman is one of the key demands of party supporters sympathetic to Wike, as a condition for peace to return to the party.
Regardless of the update on Tuesday, Osadolor has predicted a comeback for embattled Ayu.
"Ayu will be back. It is not a question of if but when. As I said a few days ago, the suspension from his ward is null and void because the constitution of the party is clear on the matter.
"Only a committee set up by the NEC of the PDP can suspend a national officer of the party. Ayu will prove this in court.
"He merely stepped aside to show them in court that they lack the power to sanction him as they are trying to do," he said.