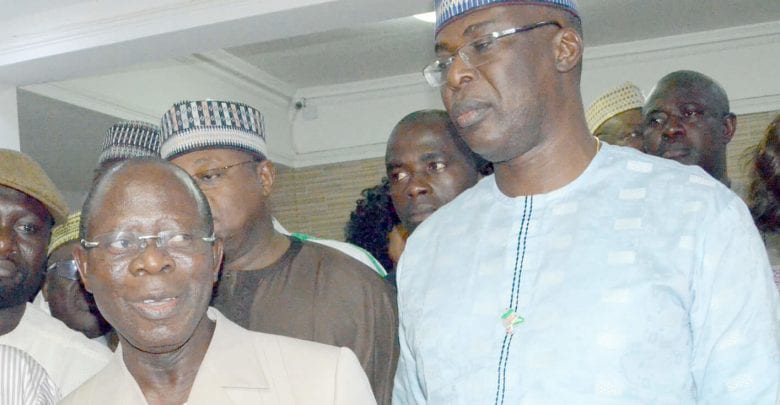 The ruling All Progressives Congress (APC) has slammed the Peoples Democratic Party (PDP) in Bayelsa State over its recent verbal attack on its national chairman, Adams Oshiomole and the Minister of State for Petroleum Resources, Timipre Sylva.
The APC through its Deputy National Publicity Secretary, Yekini Nabena, on Tuesday, also condemned the state Secretary of the PDP, Godspower Keku, for allegedly fabricating and peddling lies against its two leaders.
Nabena urged Keku not to overheat the polity in the state, following the Supreme Court ruling on the Bayelsa State Governorship election and called on leaders of thought in the state to caution Keku.
The APC spokesman also asked security agencies to call the PDP scribe to order before he throws the state into anarchy and set it ablaze through his comments.
He said: "I read the unprovoked and unwarranted attacks by one Godspower Keku, purported Bayelsa State Secretary of the PDP on the Minister of State for Petroleum Resources, Chief Timipre Sylva and the APC national leadership in which Chief Sylva was particularly hurled several concocted and mischievous allegations.
"As law-abiding people, we have accepted the decisions of the Supreme Court on the Bayelsa Governorship in good faith. However, I strongly urge the PDP in Bayelsa State not to take for granted the 352,552 electorates who voted overwhelmingly for their governorship choice by making insensitive and infuriating statements.
"Perhaps, the PDP in Bayelsa is out of tune with the current state government and needs to be called to order. In the interest of peace and the development of Bayelsa, we have appealed to our supporters and members to be peaceful and accept the ruling.
"The Bayelsa PDP's attempt to stir the hornets' nest and further infuriate Bayelsans is ill-thought, careless and reckless."