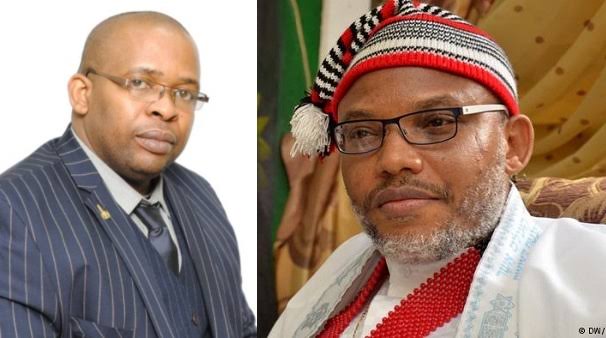 Uche Mefor, the estranged deputy-leader of the Indigenous People of Biafra (IPOB) has maintained that "with reference to those lives destroyed" Nnamdi Kanu, the leader of the outlawed group is deceitful.
Mefor's relationship with the now-arrested Nigerian separatist leader hit the rocks late last year (2020) as a result of disagreement in respect of the modus operandi of IPOB.
Mefor seem to be averse to violence, and has stressed that human rights must be respected in Biafra pursuit.
"I maintain that the culture of lies ,of deception and of blackmail of Nnamdi Kanu and IPOB with reference to those lives destroyed and who cannot speak for themselves will take generations to undo," Mefor wrote on his known
Facebook
page on Wednesday, accompanied with a video of Ifeanyi Ugwuanyi, the governor of Enugu State speaking in an interview with
BBC News Igbo
.
"See how they falsely label and destroy people's character with impunity.
"When I said that what goes up must come down ,I meant every bit of it. What ever anybody sow ,i for those perpetrators. They shall be alive to experience the same pains they inflicted on those vulnerable who are unable to speak for tthemselves.
"The forces of heaven and earth shall continue to work in dissonance and in discordant pattern for all of you. Time shall definitely tell."
IPOB is seeking for a breakaway nation of Biafra. The plan although not new, has gained traction in Eastern Nigeria region lately.