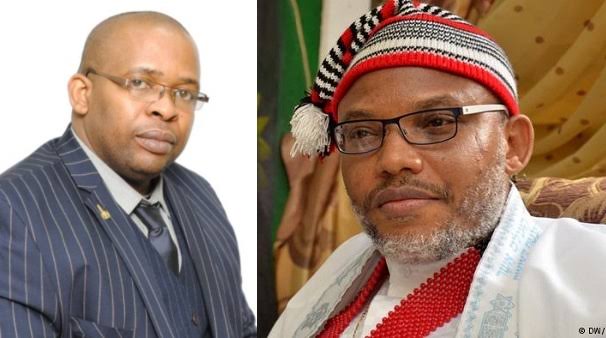 Uche Mefor, estranged Deputy-Leader of the banned Indigenous People of Biafra (IPOB), on Saturday criticised the family of Nnamdi Kanu, detained leader of the outlawed group, over their recent denouncement of Simon Ekpa.
POLITICS NIGERIA reports that the family of Kanu formally wrote Ekpa, a self-proclaimed disciple, to stop using the name of the agitator for material gains.
In a letter dated May 17, addressed to Ekpa by Magnus Jonsson, the Kanu family said the Finland-based Nigerian should not mention their son's name nor use the agitator's image in any of his broadcasts.
Reacting to the friction between Kanu's family members and Ekpa, Mefor insisted that Kanu and Ekpa are one and the same.
"This is interesting and laughable as well. I maintain that there is a way nature responds to those who treacherously conduct themselves towards her, for what goes up must come down, and karma knows no bounds in her retribution.Your labouring so hard to dissociate yourselves from Ekpa remains an afterthought. Kanu endorsed Ekpa to do the hatchet job for him including blackmailing and defaming people's character. Whatever Kanu accuses anybody is what he does, and in most cases, his accusations are false.
"If you sow treachery, you reap treachery, if you blackmail, you reap blackmail, if sow anarchy, you reap anarchy. In fact, it is perfectly in consonance with the saying that "whatever you sow, you reap".
"Ekpa is a member of IPONK-IPOB. They are the same," Mefor wrote on his verified Facebook page.