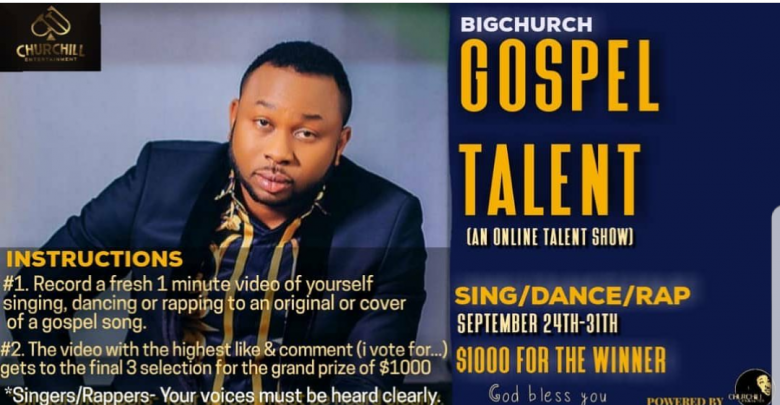 Big Church Entertainment, owned by billionaire Enterpreneur and Philanthropist, Dr. Olakunle Churchill has to commenced its online Gospel Talent exhibition and voting, tagged, "The Big Church Gospel Show", which kick started on the 8th of September, as the emerged winner will be awarded 1000dollars and other endorsement deals with Big Church Entertainment label.
It is organised to empower interested and talented Singers, Dancers and Rappers who will participate and follow the procedures required by the organisers of the online talent exhibition. The event is however powered by Big Church Gospel Entertainment, Organisers of Nigeria's No.1 online gospel talent exhibition.
According to the head of the organising committee of the talent exhibition exercise for talented Arts across Africa, he told StatePress Correspondent that interested participant are required to upload a one(1) minute video of themselves singing, dancing or rapping, as well as cover of a gospel song, depending on the category.
The one minute video is being uploaded on instagram using the following tags for uploads, @olakunlechurchill, @bigcburchentertainmentofficial @gospelnaija. However, the committee confirmed to our correspondents that the video with the highest views, likes and votes, will stand the chance to win $1000dollars as support, inclusive of other contract deals.
Big Church Gospel, the organisers of Big Church Gospel Talent Show, is an expansion of Big Church Entertainment, a subset of Big Church Group, has organised the online gospel event to touch lives, change destinies and help people locate God. The major focus is to sponsor gospel concerts, outreaches, produce and market gospel albums, drama, movies and videos.