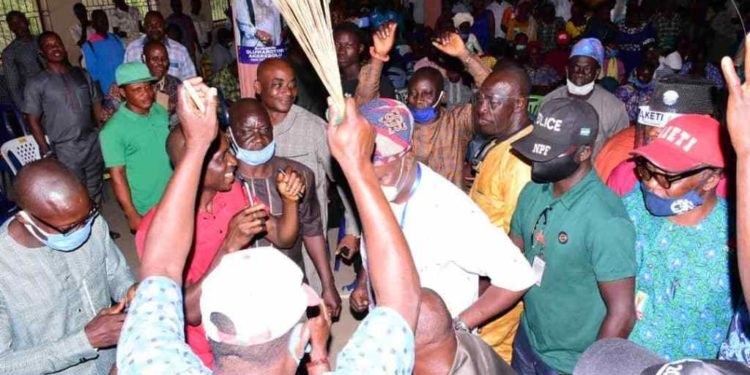 Some family members of the embattled deputy governor of Ondo State, Agboola Ajayi, have endorsed the re-election of Governor Oluwarotimi Akeredolu of the All Progressives Congress, APC, in the upcoming governorship election.
It was gathered that the family members were led by Agboola's cousin, Barrister Akinwunmi Sowore. He led the defectors from ZLP, PDP to the ruling APC in the state.
Sowore and other defectors declared support for Akeredou, adding that they will fully campaign for him to win a second term in office.
Speaking on why they refused to follow the Deputy Governor to the ZLP,  Sowore said they refused to follow the Deputy Governor to the ZLP because they were not political nomads.
He noted that the achievements of Akeredolu endeared them to the APC, hence their decision to join the party to ensure its victory in the forthcoming governorship election in the state.
He said: "Aside from the outstanding performance of our amiable governor, Arakunrin Oluwarotimi Odunayo Akeredolu, SAN, it is only morally just for the entire state to allow the governor complete eight years in order to fulfill the political configuration of the state.
"Please express this message to the governor, that we in Ese Odo are people of character and integrity. Let him not use the attitude of his estranged deputy governor as a yardstick to judge us.
"In any case, Akeredolu is even more of quality candidate as an indigene of Ese-Odo than the man who is claiming Ese-Odo.
"Our people should note that we have got a more experienced and qualitative person in Aketi than anyone, if you are confronted that our brother is running after all."