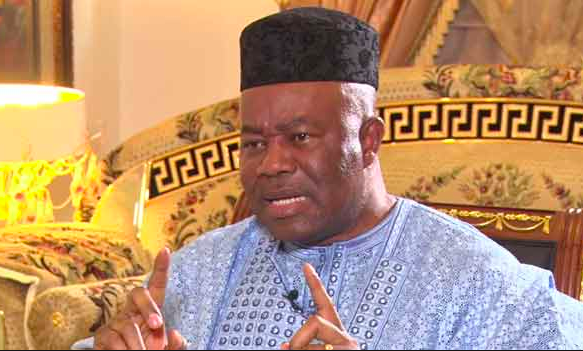 Minister of Niger Delta and former Governor of Akwa Ibom State, Senator Godswill Akpabio, on Wednesday, lost out at the Election Petition Tribunal.tThis comes as the Tribunal sitting in Uyo, dismissed his petition challenging the election of Senator Chris Ekpenyong of the Peoples Democratic Party (PDP).
The Tribunal which ruled in favour of the PDP and its candidate was headed by Justice W. O Akanbi, as Chairman.
Akpabio, the first petitioner had challenged the elections on the ground that Ekpenyong was not duly elected by the majority of lawful votes cast and that the process that elected him contravened the Electoral Act.
The court dismissed all the preliminary objections filed by all the respondents in the petition and resolved to settle the case on the merits, to wit: "Did the petitioner prove by admissible evidence that the election was invalid?
"Did the first petitioner establish that he, Senator Godswill Akpabio won the elections by polling the highest number of votes cast at the elections against Senator Christopher Ekpenyong who was declared a winner by the INEC?"
Relying on the case of ANDREW v. INEC, the court thereupon held that the petitioner's evidence was too weak in all ramifications to prove non-compliance, which is the only ground for which nullification of the elections was sought.
The court further stated that the petition failed to bring any witness from the polling units and thus could not prove substantial non-compliance with the Electoral Act.