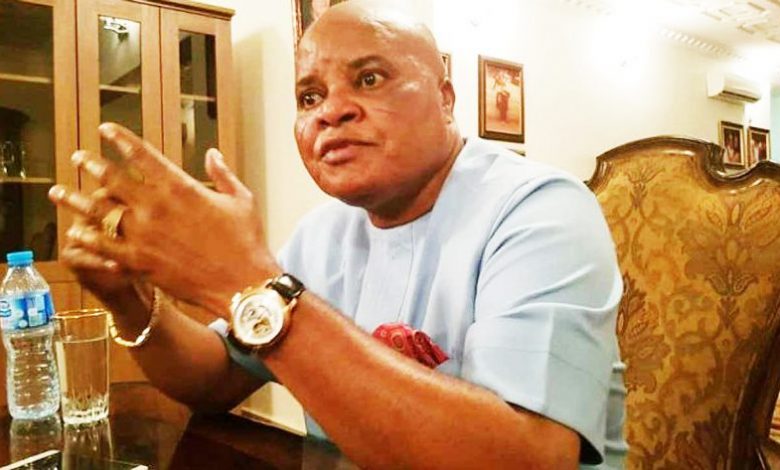 Senator Ifeanyi Araraume has reacted to his recent victory in Court, calling on the People of Imo state to join hands and unite.
On Thursday, a Federal High Court sitting in Abuja ordered the Independent National Electoral Commission (INEC) to declare Senator Ifeanyi Araraume as the winner of the December 5, 2020 bye-election for the Imo North Senatorial District of Imo State.
Reacting to the development via his social media page, Araraume wrote;
Congratulations to Okigwe People. This is not a victory for Araraume, it is a victory against subversion of people's will, a victory against disenfranchisement, a victory against imposition, a victory against unlawful substitution, abuse of power and reckless use of office.
"This is a victory for rule of law and democracy. A victory for the good people of Okigwe zone, and Imo people at large. It doesn't matter whether you like Araraume or hate him, what we have continued to fight is impunity against established laws and order by those in positions who think themselves powerful or above the law. We will continue to fight unlawful imposition or any attempt to put Okigwe Zone under control by external forces."
"Okigwe Zone belongs to Okigwe people and they must be allowed to make their choices as Okigwe People. The credit belongs to the men and women who stood by the path of truth; those whose faces are marred by sweat and blood fighting the rot; those who strives valiantly; those who errs and comes short again and again but still strive to make things right because there is no effort without error and shortcoming; those who knows the great enthusiasms, the great devotion and spend themselves in a worthy cause; those who at best knows in the end the triumph of high achievement; and those who at worst, if they fail, at least fails while daring greatly, so that their place shall never be with those cold and timid souls who have never tasted victory or defeat because they are afraid to try."
"We all know that the supreme excellence is not to win a hundred victories in a hundred battles. The supreme excellence is to subdue the armies of your enemies without even having to fight them nor bear grudge. There are many enemies facing us today: lest we drown, we must channel our arsenal to fighting Insecurity, Economic downturn, Infrastructural decay, Substandard education system, unemployment, Poor human development, Corruption, Nature of the market, Policies affecting trade and investment, Environment and health issues, prompt payment of salaries and pensions."
"Those are the enemies to fight and we must join hands together to win them. At this point, we must see beyond the politics of today, to at all cost, secure a legacy for the future of the generations to come. How do we address the issues as concerns Ndi-Igbo? How do we have a discussion over a series of agitations in every part of the country, and find a solution to solving all the issues and concerns raised by our young people? We cannot achieve this by fighting relentless political battles when there are economic battles to fight. Araraume left the National Assembly 13 years ago as a Senator of the Federal Republic, and has not stopped addressing the political issues, and Infrastructural /human development issues directly or indirectly in Okigwe zone."
"You all know that Araraume is not the only ex this or that from Okigwe Zone, but a few of us have continued to shoulder the burdens of the Zone in the last 2 decades. Many of the 4th Republican Senators are either Politically or economically retired, but I, and many others have continued to build and carry the Zone along. Every Okigwe Son and Daughter is a stakeholder in this Project and in all that concerns Okigwe Zone, and must be allowed to be part of the discussion and the decision."
"When individuals and communities do not govern self, they risk being ruled by external forces that care less about the well-being of their village. To be colonized is to become a stranger in your own land and culture. This is what we have continued to say a big NO to, and we will make sure it does not happen a second time in Okigwe Zone, not again in our lifetime. Justice has nothing to do with victor nations and vanquished nations, but must be a moral standard that everyone can agree to. To seek this and to achieve it, that is true civilization."
"Okigwe Zone now has a Senator-Elect. Those who are in various courts seeking interpretation and redress are exercising their rights as law abiding citizens, the same way I encourage myself and every good citizen to… but at the end of all the legal battles, we must all come together as Sons and Daughters of Okigwe Zone to develop our Zone. Angels will not come down from heaven to build our communities, we must all be in the discussion. Thank you."