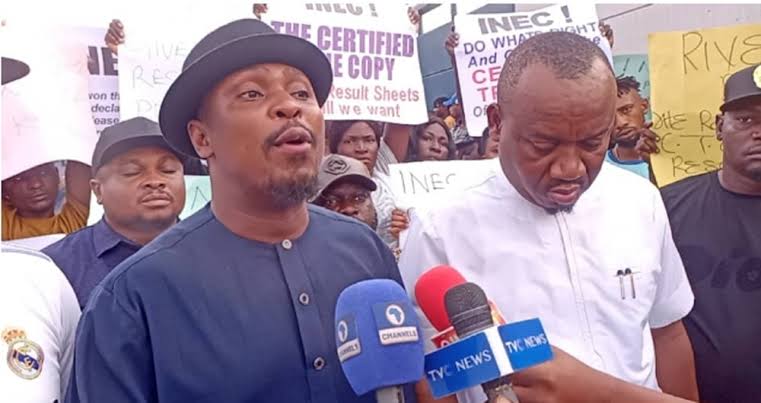 Edison Ehie, the Speaker of a faction of Rivers House of Assembly loyal to Governor Siminalayi Fubara, has opened up on an alleged attack on his home in Port Harcourt.

In a statement issued on Monday, the lawmaker claimed that he escaped assassination on Sunday evening when a group of armed thugs led by a superintendent of Police attacked his private residence, intending to assassinate him and his family.

The statement signed by his legislative aide, Ken Uchendu, revealed that after a gun battle, security details attached to him were able to foil the alleged assassination attempt.

The legislative member promised to release the footage of the incident to local and international media organisations.
Ehie also said he would address a press conference today.

He said, "At about 11 pm on Sunday the 19th day of November 2023, a group of armed thugs and rogue Police Officers led (name withheld) a superintendent of Police attached to the CTU B 3 RSV and (name withheld) attacked the private residence of the Speaker of the Rivers State House of Assembly, Rt. Hon. Barr. Edison Ogerenye Ehie, DSSRS, fully armed to assassinate Mr. Speaker and his family.

"However, the thugs and rogue police officers led by the two above-named police officers in Rivers State were vehemently repelled in a gun battle by the official security details attached to the Speaker, Rt. Hon. Barr. Edison Ogerenye Ehie, DSSRS.

"It is imperative to note that the armed rogues and officers were properly and fully captured by CCTV footage in the residence, which shall be made available to all media houses, including the CNN, Aljazeera and other national and international media outlets for the records.

"Let it be on record that Rivers people, boys, girls, women, men including the aged shall in our numbers occupy the streets stark naked in demonstration against the Nigerian Police and those sponsoring violence in Rivers State, no matter how highly placed, Rivers people will resist them.

"Finally, should there be a breakdown of Law and order in Rivers State, President Bola Ahmed Tinubu should hold the above-named Officers, the Rivers State Police Command and their sponsors in Rivers State responsible," Uchendu stated.

Rivers State Police Command is yet to react to the incident as of press time.

Recall that on October 29, the Chambers of the House of Assembly were bombed, raising suspicions of an attempt to stop impeachment proceedings against Governor Fubara.

The following morning, a group of lawmakers loyal to Governor Fubara's predecessor, Nyesom Wike, initiated impeachment proceedings against the governor. However, this move was countered by another faction of the House, led by Martin Amaewhule, a staunch supporter of Wike.

In retaliation, Amaewhule's faction suspended Edison Ehie, a close ally of Governor Fubara and other lawmakers loyal to the governor, accusing them of orchestrating the bombing of the legislative chamber.

Amidst the tensions, Fubara obtained an injunction from a High Court in Isiokpo, restraining the Wike-backed lawmakers from proceeding with the impeachment process.