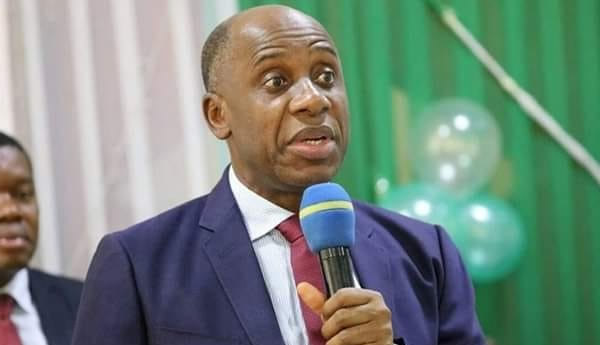 A faction of the All Progressives Congress, APC in Rivers state has threatened to burn down the state if anything happens to their leader, Rotimi Amaechi.
The group, made up of loyalists of the Transportation minister, accused the state governor and PDP chieftain, Nyesom Wike of using the State judiciary to fight their principal. They also issued a warning to APC factional leader, Magnus Abe, to leave their leader alone.
The leader of the group was heard saying;
"To Rivers State Judiciary, that has made themselves Nyesom Wike Private company, if they do anything against his excellency, Rt. Hon. Chibuike Rotimi Amaechi, we are going to burn down Rivers state."
"We are going to shut down every federal agency, every multi-national company, we are going to destroy everything and put rivers state in Crisis. We going to show them that Rotimi Chibuike Amaechi is not a man they can toy with and we will make sure that any person who wants to die, we are going to die with him and any person who wants to live, we are going to live with him".
We are warning Magnus Abe and Ike Aguma and all of them. They say they want peace, what is their business with what is happening in Edo. What is happening in Edo has exposed them, exposed their allegiance and people they are working with".
As it stands now if they want to live, then they should be cautious because we will not be alive to see them alive to do whatever they want to do against Rotimi Chibuike Amaechi."
POLITICS NIGERIA has footage of the development. Watch below;