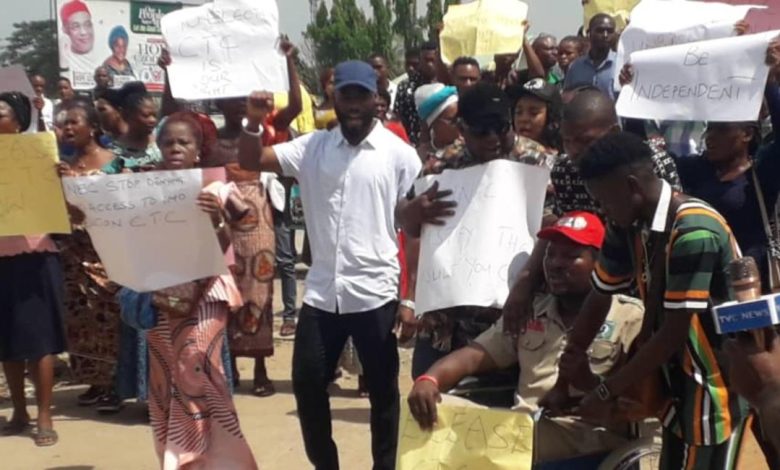 Tension escalated at the Independent National Electoral Commission (INEC) headquarters in Owerri, Imo State, as supporters of the Labour Party (LP) stormed the premises over the alleged denial of access to crucial documents related to the November 11 governorship poll.
The members who sang solidarity songs, displayed placards with various inscriptions such as, "INEC is supposed not be unbiased", "INEC, Justice delayed is Justice denied", "INEC release CTC" "INEC should be independent" and so on.
Senator Athan Achonu, the LP candidate in the election, claimed that INEC had not provided certified true copies of election materials, prompting the party's supporters to protest.
The LP state chairman, Callistus Ihejiagwa, led the demonstration, expressing deep dissatisfaction with INEC's conduct.
During the protest, Ihejiagwa, speaking from a wheelchair, voiced frustration, citing a nine-day wait for the mandated documents.
He highlighted an incident where he was assaulted during the collation of election results by individuals linked to the All Progressives Congress (APC).
His words:
"The first time I came here was on the evening of November 11, I was hale and hearty, strong, and I came with my two legs.
But I was beaten mercilessly and thrown outside from inside the collation room right in the presence of the State Commissioner of Police, two federal commissioners of INEC, the Resident Electoral Commissioner, Prof Sylvia Agu, Heads of Security Chiefs in the state, by thugs brought in by a top aide of Governor Uzodimma, because I had demanded that the right thing should be done.
"Today I am here again in a wheelchair rising from the severe assault by the APC thugs on the evening of November 11 which had affected my spinal cord, demanding from the INEC to give us the certified true copy of the fake results they used in declaring Senator Hope Uzodimma and they have refused – nine days after the election.
"The National Chairman of the Independent National Electoral Commission, Prof Mahmoud Yakubu, the federal Commission representing the South East, Ken Ukaogu and the State Resident Electoral Commissioner, Prof Sylvia Agu have refused to release the CTC after 9 days.
"They mocked Labour Party inside the collation hall that we should go to court. The Returning Officer, Prof Abayomi Fasina, had bluntly told us to go to court. We have applied for the CTC so that we can go to court but the INEC is delaying which is deliberate; just to frustrate us.
"We have come here this afternoon so that the entire world will hear our voice that the INEC is frustrating us, using technical reasons that the delay from is one office or the other."
Ben-Opara Emmanuella, a representative from INEC, acknowledged LP's application for the documents, assuring the protesters that efforts were underway to gather the materials and provide the cost for their release.