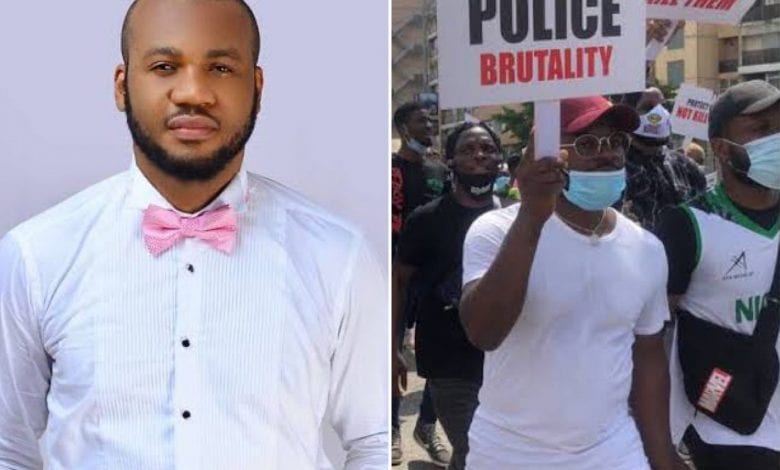 POLITICS NIGERIA has been furnished with court documents revealing the names of some top Nigerian Celebrities who have been charged to court by a self-acclaimed Human rights lawyer, Kenechukwu Okeke over their roles in #EndSARS protests that rocked the nation a month ago.
The list also consists of Social Media Influencers and Activists. See blow;
1. AISHA YESUFU
2. OSEYI ETOMI
3. SAM ADEYEMI
4. YEMI EBERECHI ALA
5. FAKHRRYAH HASHIM
6. TEIMTOPE MAJEKODUNMI OANU-DAVIS
7. OLORUNRINU ODUALA
8. PETER OKOYE,
9. PAUL OKOYE
10. JOLA AYEYE
11. LAILA JOHNSON-SALAMI
12. ANITA NATACHA AKIDE
13. OGHENEKARO IBADA OMU
14. KANU NWANKWO
15. IKUFORIJI ABDULRAHMAN OLAITAN
16. OJABODU ADEMOLA
17. DEJI ADEYANJU
18. DR. JOE ABAH
19. BANKOLE WELLINGTON
20. UCHE JOMBO RODRIGUES
21. MODUPE ODELE
22. KIKI MORDI
23. DAMINI EBUNOLUWA OGULU
24. TIWA SAVAGE
25. AYODEJI RICHARD MAKUN
26. CHIBUZOR NELSON AZUBUIKE
27. APAOKAGI ADEDOYIN MARYAM
28. FOLARIN FALANA
29. AVO SOGUNRO
30. DAVID ADELEKE
31. PAMILERIN ADEGOKE
32. JAPHET OMOJUWA
33. CHINEDU OKOLI
34. MICHAEL AJEREH
35. YUL EDOCHIE
36. INNOCENT IDIBIA
37. DEBO ADEBAYO
38. FEYIKEMI ABUDU
Okeke made the levelled the following accusations against the celebrities in his suit;
"That the 1st to 50th accused persons, between the 3rd day of October, 2020 and 28 day of October, 2020 using Twitter. an Internet web resource with URL (https://lwww.twitter.com) within the jurisdiction of this honourable court did conspire amongst themselves to commit misdemeanor, to wit promoting or acting in such a manner, with intent to assist in the promotion of an unlawful assembly under the guise or composition of "#EndSARS' and thereby committed an offence punishable under Section 97 (2) of the Penal Code Act, C53 Laws of the Federation of Nigeria, 2004."
"That 1st to 50. accused persons with intent to carry out some common, purpose assemble in such a manner or, being assembled under the composition of "#EndSARS", as to cause persons in the Federal Capital Territory, Abuja to fear on reasonable grounds that such assembly needlessly and without any reasonable occasion may provoke other persons tumultuously to disturb the peace."
a. Properties (movable) belonging to the complainant was egregiously destroyed by some riotous and tumultuous person (s) instigated and incited by the 50 accused persons.
"The averments as espoused in this complaint is not intended to be a complete recitation of all the applicable facts in issue or relevant facts relating to the conspiracies to assist in the promotion of an unlawful assembly (#EndSARS) lots, and shall not be deemed to constitute a waiver or relinquishment of any of the complainants constitutional right to fair hearing, all of which are hereby expressly reserved including complainant's right to tender all available computer-generated evidence by virtue of Section 64 of the Evidence Act."