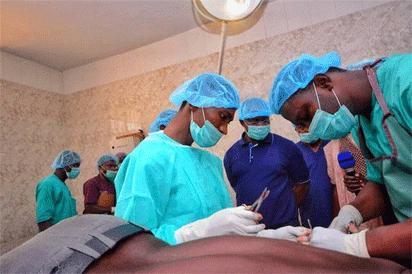 Resident doctors in Nigeria have begun an indefinite strike on Monday to demand the implementation of residency funding, COVID-19 allowance, hazard allowance among others.
President of the Nigerian Association of Resident Doctors (NARD), Dr Aliyu Sokomba made this known in an interview with reporters on Monday.
Sokomba said the reasons for the strike include the provision of life insurance, a pay rise, payment of salary arrears as well as provision of adequate facilities for doctors.
"We have kicked off the strike today," NARD president Aliyu Sokomba told AFP, adding that medics treating virus cases would join the action this time around.
"There will be no exemptions," he said.
Speaking further, Sokomba said: "We have arrears of 2014, 2015, 2016, salary shortfalls that were supposed to have been paid over six years ago, still pending.
"These are the issues we have and they appear not to have been addressed up till this day.
"It is an indefinite strike," Sokomba said, adding that it would be called off only when the union's demands were met.
Recall that on June 15, NARD had embarked on an indefinite strike. The strike was suspended on June 22 after the intervention on the Federal Government and other stakeholders in the health sector.