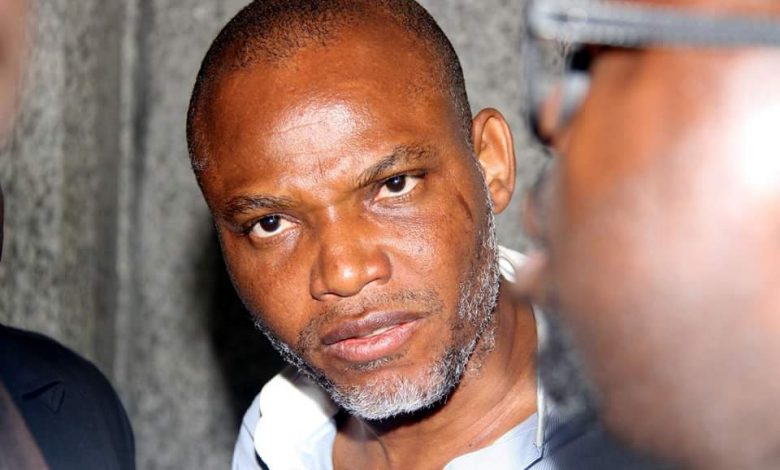 The embattled leader of the proscribed Indigenous People of Biafra (IPOB), Nnamdi Kanu, through his lawyer, Ifeanyi Ejiofor, has said the Attorney-General of the Federation and Minister of Justice, Abubakar Malami's recent statement about his client is "falsehood".
POLITICS NIGERIA recalls that Malami (SAN) had said on Friday in Abuja that a presidential panel has indicted Kanu for instigating subversive campaigns against the Nigerian state.
Malami, while briefing newsmen said that the eventual re-arrest of Kanu in June alongside the capture of some members of his group led to the inauguration of a Presidential Ad-hoc Committee, comprising 24 members from the Ministry of Justice (MoJ), the Ministry of Information among other ministries.
According to him, the committee, headed by him, made a number of findings including that Kanu instigated widespread violence in different parts of Nigeria. The AGF disclosed that Kanu hijacked the #EndSARS protest and instigated violence and killings of security operatives. He alleged that Kanu played a role in the destruction and looting of the Oba of Lagos Palace and the burning of a house belonging to Imo state Governor, Hope Uzodinma.
Reacting, Ejiofor asked Kanu's supporters to stay calm, just as he vowed to 'demystify the petitioners only in Law Court'.
"Happy Shabbat Day Umuchineke. There is no cause for alarm umuchukwu Okike Abiama. Do not panic at all. I may not wish to dignify their trending falsehood by directly responding to it but it is a bad strategy, already dead on arrival. We saw it coming!" Ejiofor wrote on his verified Facebook page on Saturday morning.
"After a robust outing of 21st October, and strong objection raised to the empty charge, the narratives changed. Note that the media has been awashed with this false narrative right from the very first day Our Client was extraordinarily renditioned to Nigeria, even before the 7-Count Amended Charge was filed twice."
"Their 7-count Charge was amended twice upon being served with our Preliminary Objection. Remember that the facts they substantially relied upon in their purported Amended charge, dwelt much on this speculation as you saw in their press statement."
"In all, I implore you all to remain calm, peaceful and focused, your eyes should always be on the ball, because we will demystify them only in Law Court. They cannot place something on nothing and expect it to stand, it must fail woefully!"
"Please note that your prayers has been impacting so much, it cannot be taken for granted at all. Please do not relent, Umuchineke. We believe in the ability of this Honourable court to do justice to all manner of Men ,and that justice must not only be done in our case but SHALL manifestly be seen to have been done. Ignore their media propaganda please, because Onyendu Mazi Nnamdi Kanu has not committed any offence known to Law. He is a POLITICAL PRISONER, and SHALL be out soon,Our formidable legal team will leave no stone unturned to see it happen soon."
"Henceforth, No Hearing will be conducted in our Client's case without media present, we shall insist, come 10th November 2021. We are very much prepared and ready, waiting. IT SHALL ALL END IN COURT."
"Remain blessed Umuchineke and enjoy your weekend. Love you all."