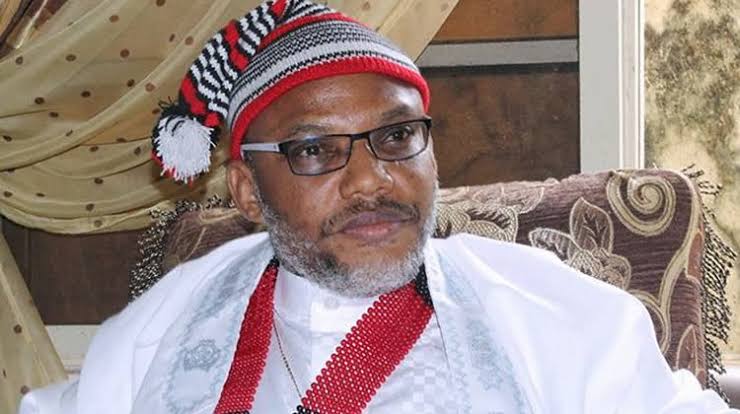 Nnamdi Kanu, the leader of the outlawed Indigenous People of Biafra (IPOB) "is happy" with the United Nations (UN's) stance regarding how he was arrested in Kenya and brought to Nigeria in June, one of Kanu's lawyers, Barrister Aloy Ejimakor said on Tuesday.
POLITICS NIGERIA had earlier reported that the UN raised concerns on the re-arrest and detention of Kanu.
The UN said it received information on allegations of enforced disappearance, arbitrary detention, torture, and ill-treatment of Kanu by Kenyan Security Officials, as well as his "illegal rendition" to Nigeria to face trial for terrorism-related charges, which were believed to be linked to his leadership of the controversial IPOB organization.
It claimed that since his rendition to Nigeria, Kanu, a Nigerian-British citizen had been denied necessary medical treatment for his underlying illness.
Giving update on his routine visit to Kanu, Ejimakor relayed Kanu's message to the Biafra activist's supporters, saying he salutes his brother, Kanunta Kanu and London-based law firm, Bindmans LLP.
Bindmans LLP had been instructed by Kanu's family to request that the British government provides consular assistance to Kanu and urgently take steps to intervene in his ongoing detention.
Bindmans then wrote to the Foreign, Commonwealth and Development Office (FCDO) requesting consular assistance for Kanu.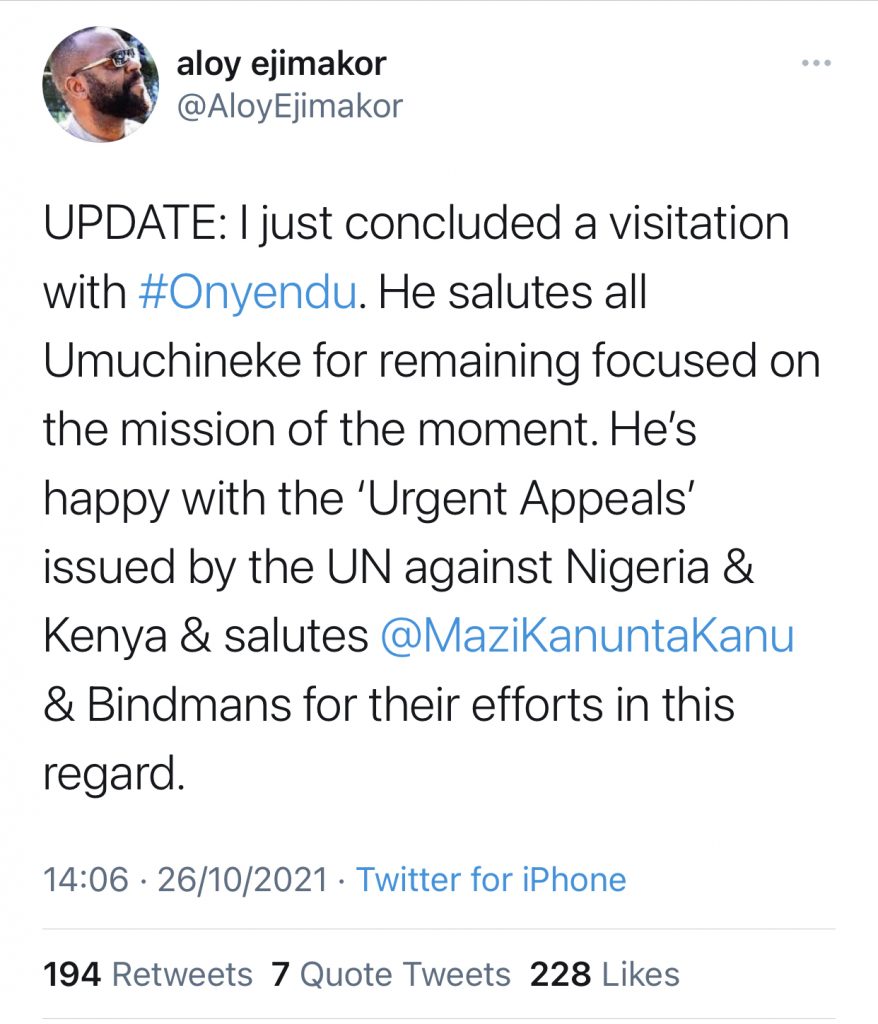 "I just concluded a visitation with #Onyendu. He salutes all Umuchineke for remaining focused on the mission of the moment. He's happy with the 'Urgent Appeals' issued by the UN against Nigeria & Kenya & salutes @MaziKanuntaKanu & Bindmans for their efforts in this regard," Ejimakor wrote on his known Twitter handle.
The date of his next trial in Abuja is November 10.