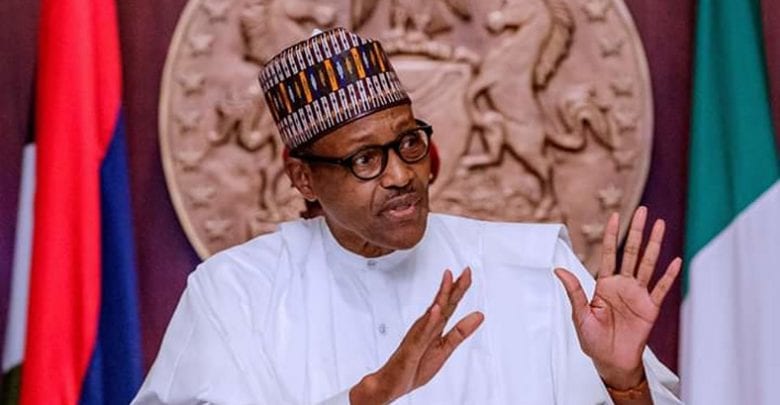 An unidentified man lunged at President Muhammadu Buhari in Kebbi State on Thursday as he posed for Photographs with the Governor of the State, Atiku Bagudu.
According to Sahara Reporters, the president was seen standing beside the governor and several other dignitaries for photographs when a man clad in black kaftan suddenly lunged at him.
The man was swiftly intercepted by the President's eagle-eyed security operatives comprising of DSS personnel and Soldiers.
This newspaper earlier reported that the President was in Kebbi state today to celebrate the popular Argungu fishing festival which has not been held in a few years due to the Boko Haram Insurgency.
Speaking at the event, President Buhari promised to sustain investments in security infrastructure to boost cultural tourism and attract more investments in the entertainment industry.
He stated that festivals such as the Argungu Fishing and Cultural Festival brought all Nigerians closer together and improved the collective appreciation of the nation's diversity.
However, In a swift response, the presidency has clarified that the man only wanted to shake the President's hand. Below is a statement signed by Femi Adesina, the President's media adviser;
"President Muhammadu Buhari was in Kebbi State Thursday to declare open the Argungu Fishing and Cultural Festival. It was the first time the international tourism event would hold in eleven years, as security considerations had rendered it impracticable."
"As the President went round the arena to inspect rice pyramids on display, and take photographs with farmers, a young man was so very excited to see his President so close. He made an attempt to get to him."
"World over, such would not be allowed by security details. The young man was prevented, and he protested that he should be allowed to greet his President. Now, professional contortionists are making mischief of the event. They are passing the video clip off on social media as an attempt to attack the President."
Photos and footage below;