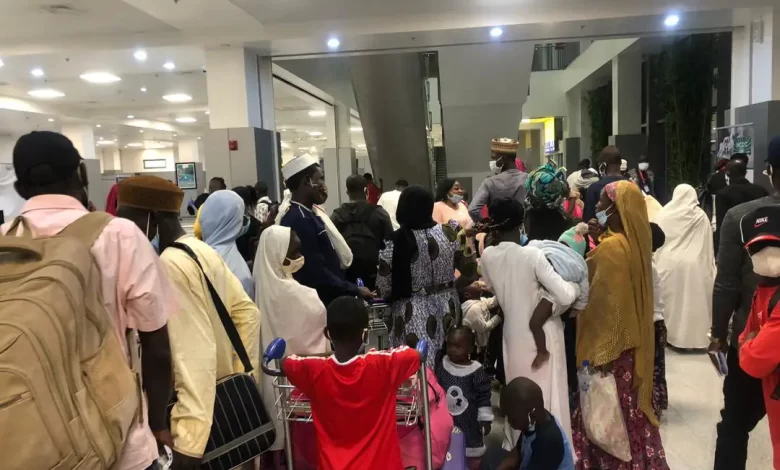 A large number of Nigerians stranded in Sudan are expected back in the country today, after the challenges that made it impossible for passage into Cairo, Egypt were addressed.
According to report, 350 stranded Nigerians from Sudan have arrived Aswan Airport in Egypt to be airlifted to Nigeria.
"They will be airlifted by NAF C130 and AirPeace. 80 passengers in C130 and Airpeace 274 passengers," said the source.
"Checking in has commenced following normal airport protocols. Boarding is ongoing," he added.
The evacuees are expected to land at the Nnamdi Azikiwe Internationa Airport in Abuja around 4:30pm as Daily Trust checks show that Cairo to Abuja is five hours and a few minutes by regular flight.
It will probably be less with a NAF C130.
Information also revealed that 20 of the evacuees were returned to the Egypt border at Arqeen as the flight could not accommodate them.
Last night, the Nigerian Ambassador to Egypt, Nura Abba Rimi gave an update about the makeup of those to be given priority.
"TeamCairo has successfully moved our students from the Sudanese side to the Egyptian side of the Arqeel border.
"Priority was given to female students in the orderly movement of the 449 students across the border.
"The students are now being prepared for their departure to Abuja through Aswan Airport", said the Nigerian Ambassador to Egypt.
On her part, the Nigeria in Diaspora Commission (NiDCOM) chairman, Abike Dabiri–Erewa, said the first batch of stranded Nigerians will be moved any moment from now.
"It's good news from Cairo. The Embassy did great and worked tirelessly.
"Air peace has landed. So, in a couple of hours, we should be receiving the first batch," she said.