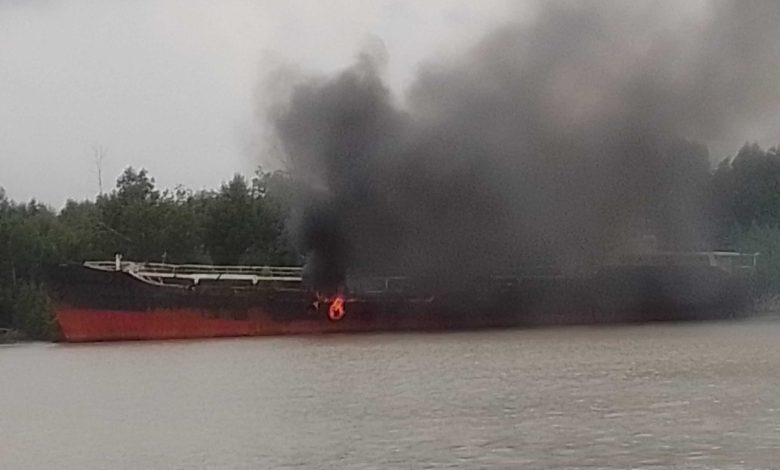 Security Operatives of the Joint Task Force, Operation Delta Safe, in collaboration with Tantita Security Services, have set ablaze a vessel intercepted in the Escravos area of Delta State.

POLITICS NIGERIA reports that the vessel, which was carrying barrels of stolen crude oil, was en route to Cameroon with its illicit cargo.

The vessel, MT TURA II(IMO Number:6620462) with Registration Number RC 813311, reportedly owned by Holab Maritime Services Limited, was apprehended at an offshore location. The Captain and crew members of the vessel were also taken into custody.
The 150,000 litres of stolen crude oil was illegally sourced from an offshore oil well in Ondo State, as reported by Captain Warred Enisuoh, the Executive Director of Operations and Technical at Tantita Security, and Rear Admiral Olusegun Ferreira, the Commander of the Joint Task Force, Operation Delta Safe.

These sources also stated that the vessel had been operating in stealth mode for the last 12 years, without valid documentation.

Tantita Security Services Nigeria Limited, a security company owned by former militant leader Government Ekpemepulo aka Tompolo and contracted by the Nigerian National Petroleum Company (NNPC) Limited, has been uncovering a series of oil thefts in the region.

Earlier this week, security operatives under Tantita's command intercepted an oil theft syndicate operating in the Oporoza area of Delta State, resulting in the seizure of a massive vessel transporting illegal crude oil in the Niger Delta creeks.

Recently, former militant leader Asari Dokubo accused the Nigerian Army and Navy of being responsible for 99 percent of oil theft in the region. The Nigerian Army and Navy, however, denied Dokubo's allegations, but incidents of oil theft continue to persist.