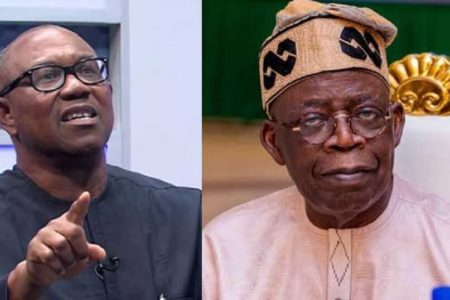 The All Progressives Congress (APC) Presidential Campaign Council has accused Peter Obi, the Labour Party presidential candidate for the 2023 election of spreading ethnic hatred and instigating tribal sentiments in order to gain an undue advantage ahead of next year's poll.
Recall POLITICS NIGERIA had reported how Obi said that he has been told several times that "these people are going to kill me".
Reacting, the ruling party in a statement on Monday afternoon by the Director of Media and Public Affairs and Official Spokesperson for the APC Campaign Council, Festus Keyamo, who is also the Minister of State for Labour and Employment, said Obi's claim was concocted.
The statement reads: " Our attention has been drawn to an offensive, hate-filled video made and circulated by the Presidential Candidate of the Labour Party, Mr. Peter Obi, in which he accused an amorphous and non-existent "Tinubu's Group" of spreading a Whatsapp message calling on the Yoruba not to vote for him. The purported message, according to Mr. Obi, forewarned the Yoruba that a vote for Peter Obi would be a vote for a seaport in South/South and South/East".
"For the avoidance of doubt, this is a transcript of the so-called message as relayed by Mr. Peter Obi: 'Yoruba shine your eyes o, if you vote for Peter Obi, it is automatically voting for seaports in South-South and South East. The Igbos will stop coming to Lagos State to invest, rather they will go to Delta and Rivers States, they may even stop building houses in Lagos. It will affect a lot of Yorubas. Yoruba ro nu o.'
"Firstly, we vehemently deny the existence of any of such "Tinubu group" that made and circulated such a message. All groups supporting the APC Presidential Candidate and his running-mate have clear designations with well-known promoters. In addition, it is only messages released by the APC Presidential Campaign Council that are officially authorized and for which we take responsibility.
"We challenge Mr. Peter Obi to reveal the source and name(s) behind that nebulous Whatsapp message.
"We wish to state that it is obvious Mr. Peter Obi deliberately concocted that message and circulated that offensive video himself as a campaign strategy in order to come across as a victim of some kind of ethnic agenda, whereas in truth, he is the real agent provocateur of an ethnic agenda."