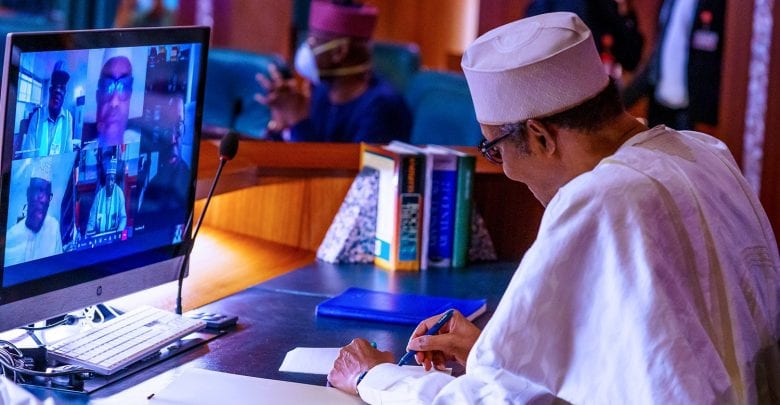 The details of the meeting between President Muhammadu Buhari, Past Nigerian leaders, service chiefs, and some top government officials have emerged.
POLITICS NIGERIA learned that Buhari, in a virtual meeting with the former leaders, said that #EndSARS protesters had genuine and well-intended intention when they started the protests nationwide, but was hijacked by hoodlums.
The President added that the protesters were misdirected, noting that the protests became a political move in order to topple the government. He noted that his administration has met some of the demands of the youths protesting against the excesses of some members of the now-disbanded Special Anti-robbery Squad (SARS).
The President noted he directed the Inspector-General of Police to disband the police unit and prosecute some of the officers found culpable of brutality and extra-judicial killings.
President Buhari also revealed that she has also ordered the immediate release of all arrested protesters, adding that Justice for deceased victims of police brutality and appropriate compensation for their families will be carried out very soon. Unfortunately, the President said protesters refused to call off the protest and engage the government to address their grievances.
The President, however, said that the government will not fold its arms and allow miscreants and criminals continue to perpetrate acts of hooliganism in the country. The meeting was attended by President Olusegun Obasanjo, Gen. Ibrahim Badamasi Babangida, Gen. Yakubu Gowon, Chief Ernest Shonekan, Gen. Abulsalami Abubakar, and former President Goodluck Jonathan.