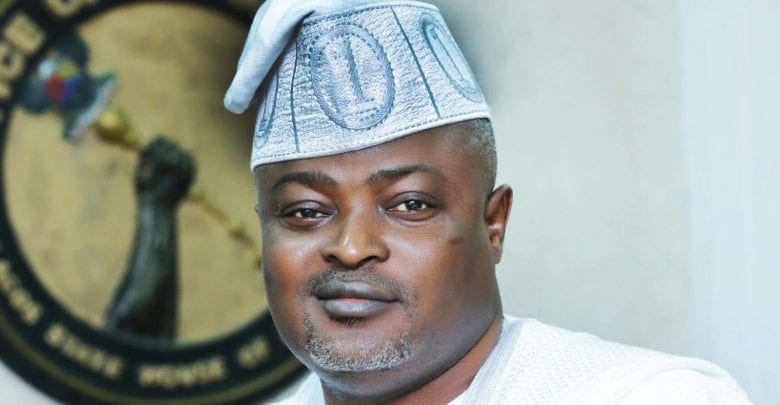 Speaker of the Lagos state House of Assembly, Rt. Hon. Mudashiru Obasa has finally reacted to several allegations of corruption levelled against him.
It will be recalled that in recent weeks, Obasa has been on the receiving end of severe criticism ever since reports of embezzlement, fraud and inflation of contracts allegedly committed by him since he took office as Speaker emerged.
Reacting to the reports officially for the first time, Obasa in an Instagram live chat with Ovation Magazine Publisher and Media mogul, Dele Momodu, denied the reports adding that he has never been involved in any criminal act since becoming the speaker.
POLITICS NIGERIA monitored the interview and below are excerpts;
Dele Momodu: "There are all kinds of allegations against you that you are just spending billions and spending money like rainwater. What is it about this?"
Obasa: "Bob-Dee! I'm very happy about this question. I said it that when we started, I was the Chairman. House Committee on Rural, I thank God, Dr, Kasali who was the commissioner is still alive, Akhabueze who was
the commissioner for economic planning is still so much alive, Fashola who was the Governor followed by Ambode are alive, call any of them any day, those people I mentioned cannot link anything to me that Obasa did this or that, I'm saying this openly so people can hear and these people are probably watching. If Obasa spends money, what is the purpose of money? Is it not to spend? But the question "How do you spend this money?", "Do you have budgetary provisions for the money you have expended?". Yes, trainings and seminars, are they not part of budgets? Festivals and others too. They alleged we use 200 and something million to print invitation, is that possible?
"Using 200 and something million to print invitation when the total budget for the programme is 61 million
naira? So where are you going to get the balance for the 200 and something million naira they say we are using for invitation card. Sometimes, it is so disturbing that some people you believe to be enlightened and educated could be saying something that can't be established or substantiated, there was a provision in the budget for the programmes and many notable people attended."
Dele Momodu: "They said you spent billions on buying cars for yourself?"
Obasa: "That is very important, thank you. When you want to be mischievous, it is for you to compose your stories. We had 8th assembly, we are now in 9th assembly, in the 8th assemble, the members were entitled to
official cars but because of the issue then between Ambode and the House, the car was delivered late to the house but at the end of the day, towards the end of the 8th assembly, we purchased the 40 cars for all the members. So the question is, do we have provisions in the budget to purchase vehicles which we did and it followed due process, so what is the problem in that when it isn't that we didn't buy the vehicles, everybody collected their vehicles and they are still alive, then the 9th assembly came, are we going to say the new members in the 9th assembly won't collect their own? is it possible and the 9th assembly got their official car after 6 months in office but because some people are just being mischievous, they now combine the 8th assembly and the 9th assembly together that we purchased these billions and that, it doesn't make sense."
"The procurement office is there, you can google the website and crosscheck and we have documents to buttress that. In this case, the speaker cannot even sign alone because the office of the speaker can only sign 100 million and below, anything above that, you cannot sign, other members of financial committee must join you and I have the list here, you can see."
Dele Momodu: "So how are you able to get the billions that is being alleged, I'm not the one saying this, I'm only reading out the questions been sent to me."
Obasa: "Where is the billion? Can you spend Government money anyhow, are the clerk, auditors and the officials stupid, are they not going to crosscheck what you have been doing?"
Dele Momodu: "They say maybe you are sharing it together?"
Obasa: "Sharing what? What do you want to share? I have challenged those who are behind this to come and prove their points repeatedly, if they can trace Government money to my account, send for statutory.
They talked about my wife, come and prove it, this is just blackmail and it is unpolitical. Some people have the intention of chasing out the speaker, to remove the speaker is constitutional and it is allowed but there is a process, come to the house and follow the process, not through blackmailing. Why is it that it was after we suspended and removed some of our brothers the thing started?"