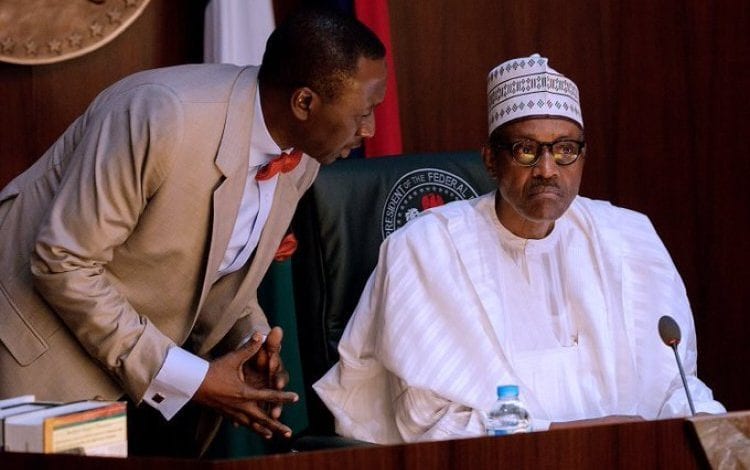 The National Security Adviser, Major General Babagana Monguno (retd.), has revealed why President Muhammadu Buhari hasn't reacted to the Lekki Shooting and current violence erupting in parts of the country.
POLITICS NIGERIA reports that some Nigerians have condemned the President for not addressing the nation concerning the shooting of #ENDSARS protesters by security forces at the Lekki Toll Gate on Tuesday
Monguno, in an interview with State House correspondents at the end of a meeting of the National Security Council on Thursday, said the President would come up with solutions to the protests that led to the crisis in the country.
Monguno said that the President has directed that his appointees should do whatever is necessary in order to bring about an agreeable resolution to this crisis.
He, however, failed to disclose whether the President will announce the solutions through a national broadcast or through a statement. Monguno added that the solution would be agreeable to the protesters and others concerned.
The NSA said that the government has been able to concede to the demands of the protesters, adding that the government will continue to engage with the protesters.
He revealed that the President has directed security agencies to apply as much restraint as possible, and not apply force or kinetic efforts to disperse the protesters.
He said: "It is not Mr. President's desire to see any unwanted loss of lives and he is determined to ensure that things do not cascade into an unpleasant situation. Therefore, he has directed all the security agencies to operate within the confines of legitimacy, the confines of legality, not to do anything that will aggravate the situation.
"The President himself, I have just left his office, is also going to deal with these issues in a specific manner apart from what has just taken place in the council. I believe in the next couple of hours Mr. President will come up with certain solutions that will be agreeable to the entire federation.""