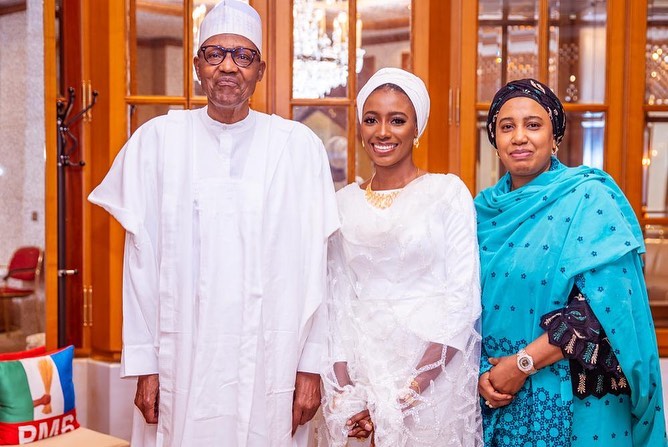 The President, Major General Muhammadu Buhari (retd.), attended the marriage ceremony of Aisha Halilu, the niece of the First Lady, Aisha Buhari.
Aisha shared photos from the event on her Instagram story early Monday.
Aisha Halilu, who is first lady Aisha Buhari's niece, has tied the knot with Mohammed Abdallah from Bauchi State.
Mrs Buhari revealed this in early Monday Instagram posts, sharing photos of the occasion which took place on Sunday in Aso Villa.
The delegation from the groom's family was led by the former minister of foreign affairs Babagana Kingibe and Bauchi State Governor Bala Mohammed.
In one of the photos, the Bauchi governor is seen addressing the people gathered for the wedding including President Muhammadu Buhari dressed in his customary white attire.
The president's daughters Zahra, Hanan and Hadiza were present. They all posed for photos with the bride who stood out in her white outfit. There was no sight of President Buhari's only son Yusuf in the photos posted.
Buhari posed for photos with the men, with Mohammed standing by his left hand side. He also posed with the bride and another woman.
Mrs Buhari captioned the pictures, "Alhamdulillah. Today my niece Aisha MOH'D Halilu married to MOH'D Kamal Abdallah from Bauchi State. The delegation led by Ambassador Babagana Kingibe and H E Bala MOH'D Gov of Bauchi state."
The first lady prayed for Aisha that her marriage would experience love and peace.
"May the Almighty Allah bless their Union and grant them an everlasting love and peace in their matrimonial home. Alhamdulillah," she said.
In July 2022, Buhari gave out his daughter Hadiza to the attorney general of the federation and minister of justice Abubakar Malami.
Hadiza was married to Abdulrahman Kurfi with whom she had six children before their divorce.