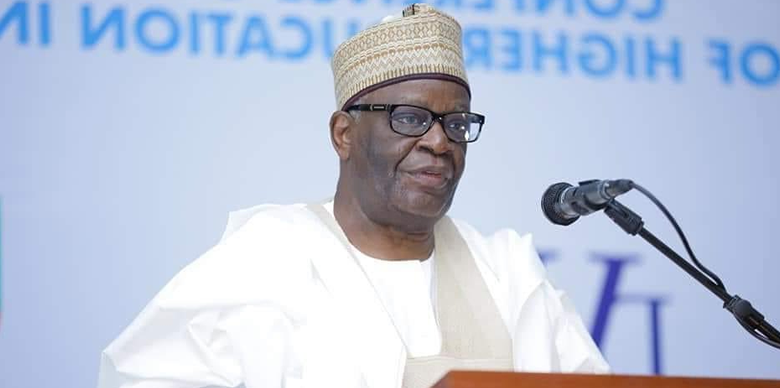 The chief of staff to President Muhammadu Buhari, Ibrahim Gambari, has hailed his principal for leaving a legacy of free and fair elections in the country as he is about to hand over to a new government.
Gambari spoke on Thursday, May 25, in Abuja at the launch of a biography of the mother of emirs of Kano and Bichi entitled "Maryam Ado Bayero: A Woman of Royal Virtue".
The late Maryam was the wife of the late Ado Bayero, an emir of Kano.
The chief of staff said Buhari worked for the diversification of the economy and oil reforms.
"Mr President is finishing his eight years term in office strong and well, leaving behind many legacies, which include the foundation of a free and fair election that has produced the president-elect, Asiwaju Bola Tinubu," he said.
"It has also produced the legacy of achievements in the area of diversification of our economy, reforms of the petroleum industry and infrastructure.
"Few days ago, we saw him commission the second Niger bridge, major parts of the Kano-Abuja expressway as well as several roads and bridges. And, of course, he is finishing strong and well in pushing back the enemies of Nigeria through insurgency and other forms of criminalities."
Gambari quoted the president as saying that Maryam Ado Bayero deserves a Guinness World Record.
"As a professor of political science and a student of history myself, I am yet to stumble on a more interesting personality such as my late elder sister, who in her lifetime had the good fortune of being the granddaughter of an emir, the 7th emir of Ilorin; daughter of another emir (8th emir of Ilorin) and wife to an outstanding revered emir of Kano, late Ado Bayero and mother of two emirs (Bichi and Kano)," he said.
"This should have entered the Guinness Book of Records. By virtue of this great piece of history by ambassador Sani Hajo (author), we have captured and immortalised her life and works for future generations to rely on as a compass."