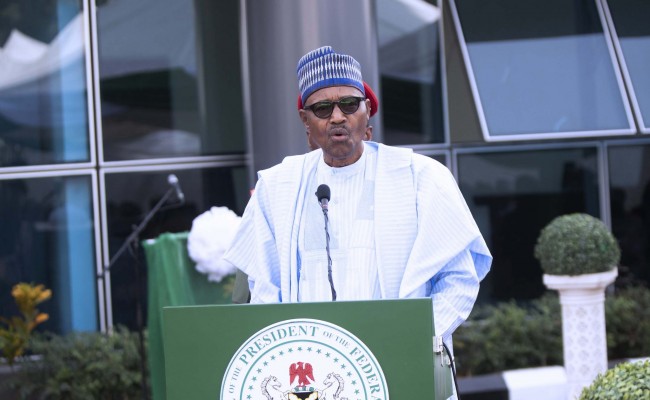 It is sheer hypocrisy for the Peoples Democratic Party (PDP) to blame President Muhammadu Buhari for the transportation and traffic challenges in Lagos
The Buhari Media Organisation (BMO) described PDP's comment blaming Buhari for the situation in Lagos as an audacious move by the former ruling party to cover up its neglect of the country's former capital city between 1999 and 2015 through its blatant refusal to provide any major presence in the State.
In a statement signed by its Chairman Niyi Akinsiju and Secretary Cassidy Madueke, BMO said PDP has again exposed itself as an opportunistic group with a penchant for half truths to score political points.
"It is no longer news that PDP has a  predilection to divert attention from its16 years of misrule and the negative impact on contemporary events.
"The latest is yet another attempt by the former ruling party to blur the lines of history in order to present itself as a party of saints, contrary to what a majority of Nigerians know it to be.
"In its usual manner, after accusing President Buhari of stopping Lagos from having what it described as a modern transport system, PDP went ahead to insinuate that his administration is not prepared to grant the state a special status.
"Is this not the same PDP that held sway at the federal level, during which it had almost total control of the federal legislature for 16 years, but did practically nothing for Lagos and its people.
"Nigerians should ask PDP elements where they were when former President Olusegun Obasanjo held on to the statutory allocations of the state when Asiwaju Bola Tinubu was governor.
"But in case they forgot, we wish to remind them that their spokesman  Kola Ologbodiyan was a correspondent in the Governor's office at the time, and he probably wrote scathing reports about the attitude of the party he is now defending at all costs today.
"We also want Nigerians to ask PDP and its leaders why PDP failed to grant Lagos a special status in 16 years, the same thing they are now accusing President Buhari of not doing in four years.
"And do we have to remind Nigerians how PDP abandoned federal projects in Lagos and failed to generate new ones to punish Lagosians for rejecting it at the polls.
"It is gratifying that the PDP admitted that Lagos people voted massively for President Buhari, but contrary to the kite it is flying, Buhari has not abandoned the state and its people but is ensuring heavy federal presence including extending rail lines to the ports", the group added.
BMO also noted that PDP should be held responsible for the prevalence of commercial motorcycles and tricycles in urban centres in the country.
"PDP's was an era when graduates became commercial motorcyclists in droves. It also saw a trend where rickshaws were introduced as a poverty alleviation tool as well as a transportation mode on a national scale.
" Railway lines were restricted to movies and Nigeria had a generation of people who had never seen a moving train in some parts of the country until recently.
"Buhari's poverty alleviation programme, on the other hand, has a human face with attention now on human capital development with programmes like N-Power and the National Social Investment Programmes (NSIP)
"Yet a party that not only squandered the goodwill of Nigerians, but also their commonwealth, is busy pontificating on what is right or wrong," the statement added