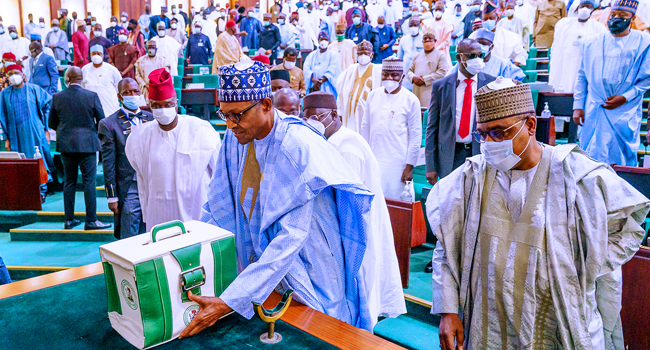 The President of Nigeria, Muhammadu Buhari, has presented the proposed 2021 Budget of N13 trillion to the National Assembly for approval.
Presenting the budget tagged, "Budget of Economic Recovery and Resilience," to the lawmakers on Thursday, Buhari said the main objective of the budget was to immediately complete as many ongoing projects and give priority to the ones that most affected the people.
He said the 2021 budget would drive the MDAs to generate revenue, no matter how little, while urging the National Assembly to pay attention to the revenue as much as they did to the expenditure.
According to him, the 2021 budget was the roadmap for the post-coronavirus economy and was aimed at accelerating the economic recovery process.
He explained that the total aggregate revenue projected for the 2021 budget was N7.86 trillion with a deficit of N5.2 trillion, representing 3.4 percent of the GDP. The President said the deficit would be financed mainly by new borrowing, totaling N4.28trillion.
Buhari stated that the total revenue available to fund the 2021 federal budget was estimated to N7.886trillion which included grants and aids of N354.85billion as well as revenues of 60 government-owned enterprises.
The Nigerian leader said the budget is based on an estimated oil price benchmark of 40dollars per barrel, daily oil production estimate of 1.86 million barrels (inclusive of condensates of 300,000 to 400,000 barrels per day), and an exchange rate of N379 per dollar.
Buhari said In the budget, the National Assembly got N128 billion, while N380.21b has been allocated to the health ministry.
Buhari said Multiple Rural Electrification Projects, Mambilla Hydro Power Project, Zungeru Hydro Power Project, among others, were key power projects under the 2021 Budget.
He stated that N420 billion had been earmarked for the Social Investment Programmes, while N20 billion had been earmarked for the Social Housing Programmes.
President Buhari said he had directed the Minister of Finance to finalise the Finance Bill and transmit for consideration and passage.