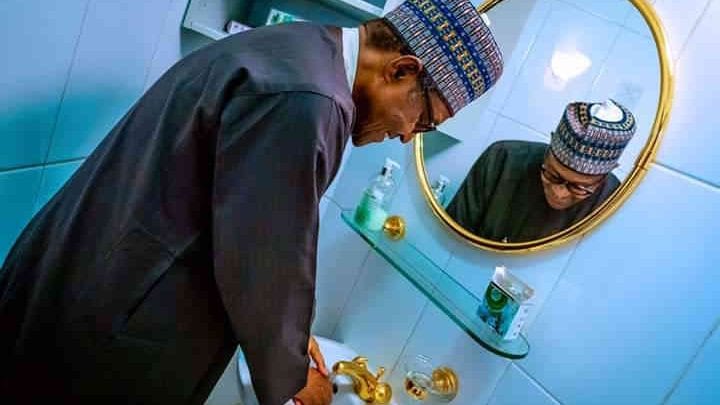 President Muhammadu Buhari on Tuesday showed Nigerians one of the measures to prevent the spread of the coronavirus (COVID-19) pandemic.
According to pictures posted by Buhari's media aide, Femi Adesina, on his verified Facebook page, the president was seen washing his hands as a way of encouraging the public to carry out the measure to prevent the spread of the disease.
The World Health Organization (WHO) had announced that washing hands with soap and water or using alcohol-based hand rub kills viruses that may be on one's hands.
Therefore, regular and thorough cleaning of hands with soap and water helps one get the better of the virus.
"President Buhari shows the way. Wash your hands, as many times as you can," Adesina captioned the picture.
According to WHO, health experts are developing 20 vaccines to tackle the deadly coronavirus.
A WHO official in Russia, Melita Vujnovic, said that the agency had received certification requests for 40 coronavirus tests.
"As of this moment, the WHO has received 40 requests to consider and approve diagnostics tests, 20 vaccines are being developed, and many medicines are in clinical trials. We are expecting first results in several weeks,'' she said in an interview with Sputnik.
She also said that Russia was taking significant measures to test for coronavirus and monitor all contacts of the infected to prevent the spread of the disease.
The WHO official added that countries should isolate, test, treat and monitor all COVID-19 cases to successfully fight the epidemic.
More than 10,000 people have died as a result of the coronavirus pandemic, according to an official data obtained by AFP news agency.
Meanwhile, WHO has dismissed the myth that coronavirus is airborne and can last up to eight hours in the air.
In a tweet, WHO said the virus was only transmitted when an infected person speaks, coughs or sneezes.
The agency added that the droplets from the infected person cannot last long in the air and so it drops to the ground.